Nairobi briefly revisited, 27 years on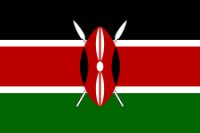 After a good night's sleep and a hearty breakfast, Bruce and I had managed to get ourselves organised and were ready to set out on a brief foray into the streets of Nairobi. We had spent most of the previous day enjoying excellent First Class hospitality from British Airways on its route from London Heathrow to the Kenyan capital, and our overnight accommodation at the InterContinental hotel had continued the theme of pampering and unashamed luxury. East Africa was virgin territory for Bruce, and it was my first time in this city since 1988, when it had been the starting point for a memorable adventure visiting Lake Naivasha and Lake Nakuru in the Eastern Rift Valley, as well as the unforgettable safari territory of the Masai Mara reserve.
Nairobi's image had not been particularly good in those days and had gone further downhill in the intervening period. The city was a necessary stop on our itinerary, but with its poor reputation in mind, we planned to make only a short exploration of the area in the fairly immediate vicinity of the hotel, leaving time for some afternoon relaxation by the pool before continuing our journey to Zanzibar.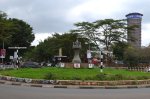 As we left the hotel around 10:30, the temperate conditions reminded me of the surprise that I had felt on that first visit so many years ago, on finding that an equatorial city could feel so fresh; the reason of course is that Nairobi lies nearly 1,800 metres (or 6,000ft) above sea level. We started to walk along City Hall Way towards our first planned stop at City Hall itself. We had only been on the street for a short time when a young local man 'attached' himself to us and began pointing out the various sights. We knew, of course, that he would be looking for money, but the way in which he conducted himself was very different from what might have been expected: he spoke intelligently in perfect English, was friendly without being in the least intrusive, and demonstrated a good grasp of the city's history and of current affairs in Africa and the wider world. We quickly decided to allow him to continue, as we were both enjoying what he had to say and the opportunity to chat with him.
And so it was that we arrived at City Hall as a group of three. Built on the site of the original 1913 Town Hall, the impressive white colonnaded building opened in 1935 as the new Town Hall, along with the Supreme Court of Kenya across the street. Additional construction began in 1950 to house the growing number of government officials, and with various additions and extensions, the renamed Nairobi City Hall opened in 1957. The 165ft clock tower was the tallest structure in the capital at the time.
Nairobi City Hall
Supreme Court of Kenya
This was as close as we got to the Jomo Kenyatta Monument
We had then hoped to take a close look at the Jomo Kenyatta Monument, between City Hall and the Kenyatta International Conference Centre, but restricted access for reasons unexplained meant that we could merely glimpse it from afar. Mr Kenyatta is revered as the founding father of Kenya, who led the country to independence from Britain in 1964. He served as the first president until his death in 1973.
We moved on to the most sobering stop on our little tour, at the August 7th Memorial Park. Situated on the site of the former US Embassy, the park commemorates the 213 people killed and the 4,000 injured when the former embassy was bombed by al-Qaeda in 1998, in tandem with a similar incident in Dar es Salaam, Tanzania. Most of those who died were ordinary Kenyan citizens going about their daily business, including students in an adjacent college which collapsed as a result of the explosion. Windows were shattered up to a kilometre from the blast site.
We had originally intended to carry on towards Nairobi's Railway Station (1899) and the nearby Railway Museum, but changed our minds when we saw rather chaotic-looking crowds of people in front of the former. Instead, we headed back to the InterContinental past the Kenya Parliament Buildings, where our guide strongly advised against any attempt to photograph the building. When we got back to the hotel, we were happy to give our guide what we considered to be an appropriate tip in US Dollars, which he graciously accepted with a "God bless you!"
ABOVE and RIGHT:

Like the ad on the building says!




Back at base, we lay by the pool for a while before having lunch at the outdoor café. A second spell on the loungers then seemed entirely justified, as the hotel's popular Family Sunday Brunch event proceeded on the far side of the swimming pool. We went back upstairs around 3:20 in the afternoon to prepare for departure.
After taking full advantage of the late 4pm checkout that had been granted, we were picked up by our driver from the previous evening, Jack. As the city's traffic was truly horrendous thanks to a football match, we took a detour via a partially constructed new bypass - it was still a dirt road, but was already being heavily used. Somehow, I couldn't imagine such a thing ever happening in the UK! The airport transfer took a full hour, compared to the previous evening's 15 minutes.
Jack dropped us at the terminal marked as being for Precision Air, but we then had to walk back round the semi-circle of buildings to the new Kenya Airways terminal, from where our flight was leaving. (It was a reminder that when in Africa, you should always be prepared for the unexpected!) It turned out to be a lovely new building, and quiet too. Completion of formalities and passage airside were both easily achieved. In our lounge-less state (poor dears!), we settled for a glass of wine and some spring rolls at a café specialising in Chinese food. I set my expectations at an appropriate level when I saw that the wine was coming out of a 1970s-style cardboard box, and sure enough, I was soon able to confirm that it was hardly top-notch stuff!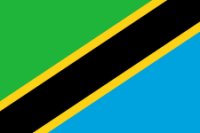 Our short hop to Zanzibar turned out to be a perfectly acceptable experience on board a brand new ATR 72 turboprop aircraft. With only eight passengers leaving the flight at Zanzibar, the immigration formalities were a breeze and our luggage appeared in no time at all. There was no sign of our DoubleTree driver, however. We waited ... I called the hotel ... we waited again. Eventually we gave up and took a taxi for the ten-minute ride to the DoubleTree Stone Town. I made my displeasure known at the front desk, but the agent seemed equally put out, claiming that the driver was at the airport now. I calmly pointed out that it was fully an hour since we had arrived, the airport was ten minutes away and it was well over thirty minutes since we had spoken on the phone.

It was another reminder that in this part of the world, things have a habit of turning out a little differently from how they've been planned.

On a more positive note, we had been allocated a very nice suite on the third floor. After settling in for this four-night stay, we went up to the top-floor bar and restaurant for cocktails, and ordered dry martinis from the menu. We couldn't help noticing that discussions were being held and detailed notes were being consulted by the staff. Eventually our drinks arrived. They shouldn't have contained any lime juice at all, but were in fact so 'limey' that we couldn't taste anything else. We were beyond getting upset at this point, and cheerfully decided to write this off as another addition to the rich tapestry of travel experiences, and more specifically as a measure for "scurvy prevention"!