Parting of the ways
We got up in the middle of the night, checked out and boarded our car for a relatively fast run through the darkness to the airport. The airport was already chaotic, with so many flights leaving first thing in the morning. We successfully negotiated the multiple checks and eventually made it to Sri Lankan Airlines' Serendib Lounge. I indulged in a few breakfast-type nibbles while Bruce checked the SPG site on his laptop and assured me that an upgrade was showing for me at the Sheraton Full Moon resort in the Maldives. Soon, my flight was being called and it was time to say our farewells once again, our next meeting uncertain due to doubts about my own ability to travel in the second half of 2012. After riding the escalator down to ground level, I was escorted to the front of a long queue for another security check before entering the gate area.
ABOVE: Sri Lankan Airlines Serendib Lounge at Colombo Bandaranaike
(Link to flight log in side panel)
I was first out of the Customs area at MLE and immediately spotted the Sheraton representative. We just had to wait for one couple to appear, but they took for ever; it seems their luggage somehow didn't make it.
Eventually we were led out to the speedboat. I donned my lifejacket before boarding and was given a cold towel and a bottle of water once seated. Fifteen minutes and one rather choppy ride later, I found myself at the Sheraton's arrivals pavilion, where I was given another cold towel and a welcome drink.

ABOVE:

Speedboat transfer to the Sheraton Full Moon
In those fifteen minutes, I hadn't simply moved from the airport to a hotel; I had left the only sizeable settlement of the country, where the locals were subject to strict Islamic laws, and transferred to a private island where, for example, alcohol was freely available and the local currency was the US Dollar. That's how things work in the Maldives and it can seem just a little bit odd at first.
My check-in was processed at a comfortable lounge chair, rather than at a desk, and an electric golf cart took me the short distance to my accommodation. I was very satisfied - delighted, actually - with my upgrade to an Island Cottage. The semi-open bathroom was a little weird, but it was lovely and certainly had an exotic feel to it. I settled in and decided to put the lights out and have a short nap, in view of the early start back in Colombo. When I woke up again, it had unfortunately started to rain heavily, so I spent the rest of the morning catching up on news, writing notes for this diary and sending a few emails to friends and family.
I had a pizza for lunch at the Sand Coast restaurant and managed a short exploratory walk around the small island to burn off some of that food and find out a little more about my new surroundings.
Sadly, the weather then reverted to heavy rain for the rest of the afternoon. It seemed a shame, but as it gave me the perfect opportunity to catch up on reading and listening to music, I didn't mind that much. I also had my evening meal at Sand Coast, although I quickly came to the conclusion that perhaps it didn't have the ideal ambience for dinner. A movie back in my room ended this first day in a new and much more slow-moving phase of the trip.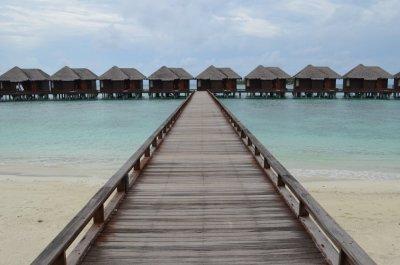 Saturday 26 May