Sheffield - The Full Monty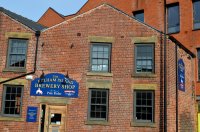 Our sleep was interrupted at 3am by a disturbance in the corridor as a group of loud, drunken women from another 'hen' group attempted to return to base for what remained of the night - ugh! It was therefore no surprise that we subsequently slept until 8:30, but there was no rush and we had a leisurely continental breakfast in the hotel. Today was going to be given over to a more in-depth exploration of what modern Sheffield has to offer the visitor.
We began with a 15-minute downhill walk from the hotel, heading mostly northwards towards the River Don and so-called Kelham Island, really more of a peninsula between the main course of the river and a man-made stretch of water known as the Mill Run. Our objective was what turned out to be the very interesting Kelham Island Museum, a facility dedicated to illustrating Sheffield's industrial heritage, inevitably majoring on steelmaking.
ABOVE:

Kelham Island Museum, celebrating Sheffield's heavy industrial heritage
Next, we walked along the banks of the Don, mostly on a recently constructed walkway, towards the canal basin known as Victoria Quays. While this area looked as though it might benefit from a little bit of 'tender loving care', it was nevertheless an attractive spot with its interesting collection of narrowboats, so evocative of an entirely different and less hectic lifestyle.
LEFT:

Walking along the banks of the Don

RIGHT:

Canal boats at Victoria Quays
ABOVE:

In the vicinity of Sheffield Station
A short walk alongside a stretch of segregated track for Sheffield's 'Supertram' network soon brought us back to Sheffield Station, where we had arrived 24 hours previously. Continuing towards the city centre, we passed the unusual sight of the Student Union of Hallam University. Featuring four stainless-steel structures that reminded me of giant curling stones, this complex was built in 1999 as the National Centre for Popular Music, a project funded by the National Lottery. After closing in 2000 due to insufficient visitor numbers, the facility endured a further failure as a performance venue before being acquired by the university and renamed The HUBS.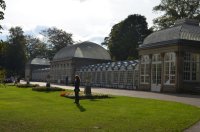 Following a brief search for a suitable venue, we had lunch in an unassuming Chinese and pan-Asian restaurant, Noodle Inn Centro, where the food turned out to be delicious.
Suitably refuelled, we then walked to the Botanical Gardens, dating from 1836 and situated on a 19-acre site between the very well-to-do Clarkehouse Road and more run-of-the-mill Eccleshall Road. The top end of the gardens featured some impressive glasshouses and pavilions. Bearing in mind the need for Bruce to catch his train home, we didn't dare linger for too long: we took a bus back to the city centre and made for the hotel, where I was still booked in for an additional night.
Bruce left shortly after 5pm. Since I felt that I had eaten a huge amount of food at lunchtime, I simply popped out to a local supermarket and bought a packet of sandwiches to serve as my evening meal. I watched two films back-to-back on TV: Wild Wild West (1999), which I thought was just plain daft, and The Descendants (2011), which I really enjoyed. In view of the continuing dire weather forecasts for the next day, I made a final decision to abandon my original plan for Monday, which would have involved visiting Castle Howard.