Not just steel and snooker


Following the dire-sounding weather forecast that I had watched the previous evening, I was surprised to look outside at 7am and find that the streets of Harrogate were still dry. This had changed by the time I'd eaten breakfast; nevertheless I decided to walk to the station and was glad that I'd done so, as the rain was little more than a light drizzle. I just missed the train prior to the one I was aiming for, so it was quite a wait in the relatively miserable conditions. In due course I set off for Leeds on a very basic diesel multiple unit, which got busier and busier the further that it travelled, to the point where it was crush-loaded on arrival. After a short wait, I then boarded a Cross Country IC125 to Sheffield and, in complete contrast, shared an entire carriage with just three other people.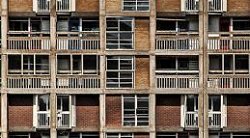 So why Sheffield? It's an obvious question, but not one with a snappy, clear-cut answer. I had been familiar with the name from childhood, as it was stamped on practically every piece of cutlery that I ever picked up. From around my mid-teens, I started to associate the city with the world snooker championships, which became popular viewing once colour television was established as standard in the UK. I had visited Sheffield, briefly, on only one previous occasion: during a week spent in York in the early 1980s, I thought it might be a good idea to allocate a day to visiting the largest city in West Yorkshire (Leeds) and its counterpart in South Yorkshire (Sheffield). In the event, I warmed to neither. Sheffield was the focal point of an area that many newspapers at the time referred to as 'The Socialist Republic of South Yorkshire' and indeed the city reminded me of words that summed up my impressions of the Soviet Bloc: drab, grim, depressing, soul-destroying. Somebody's dream of a South Yorkshire people's paradise had evidently turned into a nightmare. To me, it was a once great city that had completely lost its way in the brave new world of deregulation, globalisation and free-market economics.
ABOVE:

Pause for reflection on the steep climb from Sheffield Station
Many years later, two people independently asked me whether I had ever been to Sheffield and I answered by recounting the above. Both smiled with that I-know-something-you-don't-know look and advised that I might want to think about giving the place a second chance. So when my friend and fellow-travel addict Bruce unexpectedly suggested a weekend in Sheffield, I hesitated at first, thought through the above and then said: "Yes, okay - let's do it!" And in fact for me, this entire Yorkshire trip grew out of that one left-field idea.
It was therefore entirely appropriate that the next item on my agenda was to meet up with the instigator of the plan, shortly due to arrive on a Cross Country train from Bristol. It turned out that his journey had been very different from mine: in a rare flirtation with the joys of travelling in Standard Class, Bruce had found himself sharing a carriage with a group of "lager louts" - oh dear!


We walked to our chosen hotel, the Leopold, immediately discovering (or rediscovering) Sheffield's hilly terrain, and ditched our luggage in our newly allocated Mezzanine Suite. Before embarking on any serious explorations, we enjoyed a leisurely lunch at a nearby branch of Ask Italian.
Re-emerging into what was now a sunny afternoon, we began by having a look at City Hall (actually a music venue and conference centre), the Town Hall (that's the one that runs the city!) and the impressive Peace Gardens, all of which looked attractive under blue skies.
ABOVE:

Views of the City Hall, the Town Hall and the Peace Gardens
Next up was another surprise: Sheffield Cathedral. Sheffield is not one of the ancient cathedral cities of England: its principal place of worship is a former parish church that was elevated to its current status when the Church of England established the Diocese of Sheffield 100 years ago. Nevertheless, what we found was an unexpectedly impressive fusion of old and new. The interior was well broken up into smaller spaces, including one used by worshippers from the Russian Orthodox tradition. The building featured a bell from HMS Sheffield - the one that served during the 1939-45 war.
ABOVE:

Our expectations were exceeded at Sheffield Cathedral
After leaving the cathedral, our walk continued towards the Crucible and Lyceum theatres, past the Millennium Gallery and through the Winter Garden.
LEFT and BELOW: Sheffield has no shortage of cultural attractions and public art installations
In due course we made our way back to the Leopold, where we had some wine in the room before setting out for our evening meal at The Wig & Pen. We enjoyed a hearty dinner in the company of a mostly nice crowd, although there was one large and noisy 'hen' group, mercifully seated in a different part of the restaurant.