Getting to know Long Beach
I awoke to the sound of gentle and impressively rapid-fire clicking of keys on a laptop computer. As I attempted to rouse myself from 8.5hrs of sleep, I was slowly able to cut through the groggy haze to remind myself that I was in the Westin Long Beach, and to confirm that the early-morning keyboard user was none other than my friend and travelling companion Bruce. While I was peacefully sleeping on, he'd had to force himself to get up and start working; such was the effect of adhering to Boston hours while located on the west coast of the USA.


Three days earlier, on Good Friday, I had begun this latest trip by taking a short British Airways flight from Edinburgh to London's Heathrow Airport, where I had spent the night at the Premier Inn T4. On Saturday morning I'd met up with Bruce, newly arrived from Bristol, just outside T3 Security. We had taken advantage of One World Alliance rules to indulge in a spot of lounge-hopping over the next couple of hours. Starting with the new Qantas lounge, we'd proceeded to the newly refurbished Cathay Pacific 'F' lounge. In addition to providing a comfortable and upscale place to relax, the latter had furnished us with a light lunch of a few dim-sum, a bowl of dandan noodle soup and a Chinese Tsing-Tao beer.
The main event on Saturday had been our British Airways flight to Denver, in the first-class cabin located in the 'nose cone' of a Boeing 747-400. This was an enjoyable experience, despite an unexpectedly noisy cabin. My second night of the trip was spent at the striking Westin hotel at Denver International Airport.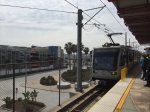 Sunday, Easter Day, had started with a relatively short hop to Los Angeles on board a rear-engined Delta Boeing 717, once again seated at the front of the aircraft. Following a bite of lunch at LAX, we had taken the rather brave step of transferring to Long Beach using the LA Metro, a system that hadn't existed when I first visited this vast and car-oriented urban sprawl in 1985. While the metro experience was interesting to me as a transport enthusiast, it wasn't one that either of us would be in a hurry to repeat. For one thing, it was evident that a strong police presence was required. Additionally, there were too many weidos talking to themselves or playing loud music. Worst of all, one female decided on leaving the train to throw her drink - which she shouldn't have had in the first place according to posted regulations - over a quiet and unassuming couple. Shocking behaviour! It certainly hadn't been anything like this when Michael Portillo rode the system for a recent episode of his TV travels!
Depite that, we eventually arrived about a block away from our hotel, wondering when last (if ever) a Westin client had arrived on the LA Metro. After settling into our new quarters and briefly exploring our new surroundings, we had enjoyed cocktails at the hotel and dinner at local Spanish-themed restaurant Cafe Sevilla.

With Bruce already engaged in his Monday morning at work, it was now up to me to get up and get on with my morning routine, more or less at my leisure. Bruce took a half-hour break to join me for breakfast at local coffee shop Cuppa Cuppa.
With my friend still busy earning his living, I went off for an exploratory walk, initially along E Ocean Blvd, then veering towards the water to see parts of the track receiving final preparations for the fast upcoming Long Beach Grand Prix. I then made my way around the Performing Arts Center, past the very swish Hyatt Regency hotel and onto the lengthy breakwater to look across to another hotel: the permanently moored Queen Mary, a ship that I had previously visited on several occasions. This would be the closest that I would get on this occasion, however. As I walked, I was impressed by the number of joggers and cyclists on the walkway, keeping themselves fit and active. Finally I retraced my route on the marina side of the breakwater to veer back towards the Westin.
By the time I had completed all that and returned to the hotel, Bruce was close to the end of his working day. Doing east-coast hours while based on the west coast has its upside as well as its downside! When he was ready to call it a day from a work point of view, we headed out together for a late-ish lunch. We felt fortunate to find an excellent Asian place, Donburi Café.
We then took a walk round the western side of the harbour area, starting from the Long Beach Convention Center, a familiar landmark from my morning explorations. The western side is known as Shoreline Aquatic Park, and includes Rainbow Lighthouse and the aquarium, which we decided not to visit. We did call in at the Hyatt Regency for a civilised mid-afternoon refreshment. The weather was beautiful throughout - much sunnier than I had experienced on my morning walk.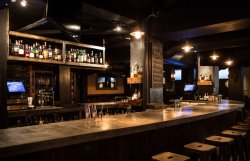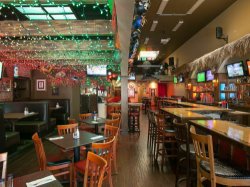 After a rest back at base, we went out to a very cool cocktail bar in the East Village, not far from the hotel, going by the intriguing name Blind Donkey. After that, our evening continued at Taco Beach on Pine Avenue, with a Mexican dinner.