Glaciers galore!
Following an overnight journey north from Ketchikan, Grand Princess arrived in the Alaskan state capital, Juneau, at 0730. The city has been the capital of Alaska since 1906, although the former Russian territory, purchased by the US in 1867 for 7.2 million dollars, was only admitted to statehood in 1959. Named after gold prospector Joe Juneau, the state capital has a population of only 32,000 people, yet is the second-largest city by area in the United States. (The top four are all in Alaska, where city boundaries appear to have been set with a view to making ample allowance for future expansion. Well, I suppose they have the space!)
After our customary morning visit to the International Café, we made sure that we were in good time for our '0850 for 0900' departure by bus for the Mendenhall Glacier. It was a short enough drive, arriving at the drop-off point for our objective just twenty minutes later. At this time of the morning, the area was already moderately busy, but not crazy. The driver set our departure time at 1125, allowing two hours for independent exploration. We started our visit at (the perhaps inevitable) 'Photo Point' and then followed the trail round to a spectacular waterfall, passing an equally spectacular spider's web en route. On completing the walk, we sought temporary refuge from the cold in the visitor centre and saw a well produced film on the glacier itself, which has retreated markedly in recent years.
A final short walk alongside a river absolutely teeming with salmon, and that was it! It was time to re-board the bus and head back to the ship for a good lunch. Encouraged by the favourable weather, this turned out to be a tasty bratwurst hot dog, eaten by the pool.
RIGHT:

Lunchtime on Grand Princess, at the Juneau cruise ship terminal
Early afternoon brought one of the undoubted highlights of the trip: a 40-minute scenic floatplane ride over the Juneau Icefield, one of the largest in the world. We transferred to the downtown terminal by a small, shuttle-type bus, where we were organised into groups. Bruce and I joined the Ravens, allocated to the red plane.
ABOVE: Yes, this is all very well, but where's the red plane? BELOW: Ah, here we are!
I had one of the rear seats by the door, which came with extra legroom - trust a frequent flyer!

With the full group on board, we 'taxied' out (if that's the correct term for a floatplane) and made our take-off run. The beautifully clear, sunny conditions made for some spectacular views, but the ride was really quite rough and featured some uncomfortably heavy jolts.

The turbulence didn't bother me too much at first, but by the halfway point I was beginning to feel a little queasy. In fact, I felt increasingly poorly from that point on and found myself silently repeating (I nearly said 'ad nauseam', but trust me, I was already there!): "I am NOT going to throw up in this plane! I am NOT going to throw up in this plane! ..." I'm convinced that the only thing that saved me and everyone else from this revolting indignity was the fact that I was seated beside the door. A steady, fresh-air draught was coming in from the door edges and by inhaling deep breaths of subarctic air, I managed to keep myself from being physically sick. Needless to say, I was mightily relieved when we eventually made a smooth touchdown on the water.
What a contrasting experience! For the first 20 minutes, this was one of the absolute highlights of the trip, and during the second half of the short flight I felt utterly miserable. I had to sit on a bench for a while after disembarking in an attempt to recover my composure, although I was still scoping out nearby bushes at this stage, in case my diaphragm refused to be denied and decided to press on with its promised workout.
In due course we started to explore the downtown area, but quickly realised that Juneau's attraction lay in its location, and emphatically not its cityscape. As Ryan (our bus driver that morning) had said: "People reckon that our Capitol building is the 50th most beautiful in the United States." Quite, Ryan.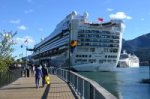 I decided to head back to the ship for a lie-down and indeed ended up having a snooze, after which I felt (more or less) fully recovered. Bruce had wandered a little further and had thought about taking the Mount Roberts aerial tramway - that's 'cable car' in European-speak - but had understandably been put off by the eye-watering USD49 fare.
I was sufficiently over my unexpected bout of afternoon nausea to partake of evening cocktails as usual, following which it was Italian Night in the dining room, complete with waiters dressed in colourful striped shirts in the style of Venetian gondoliers. In keeping with the theme, we both had the 'special' penne main course, and then it was early to bed in preparation for an early start on Wednesday morning. Grand Princess had set sail for Skagway during dinner.