First of the glaciers
This was the day when I would finally get to take to the road, not just reaching Glacier National Park but driving right through it and out the other side. First, though, I had to get there, and my planned entry point and lunch venue, St Mary Lodge, was just over 200 miles away from my present location. For this reason, I had set my alarm for 0630 in order to ensure an appropriately early start. After going to bed early and sleeping particularly well, it turned out not to be a hardship in any sense. The inclusive breakfast at the Hampton Inn did the job, but in all honesty wasn't that great.
I checked out and was ready for the road by 0830. It was only 54F (12C) at this point and I was dressed for the forecast warm afternoon (as indeed were most of the other guests at breakfast), so I needed the heating on in the car to begin with. I spent the rest of the morning making the lengthy drive on I-15, US-287 and US-89, including two substantial sections that were undergoing major roadworks and as a result were temporarily unpaved.
A few highlights of the morning's drive, including an encounter with an inquisitive heifer and a friendly biker
RIGHT:

Lunch stop at St Mary Lodge
It all took a little longer than I had anticipated, but I reached St Mary by 1230. My most enjoyable lunch at the lodge consisted of a roast beef sandwich on ciabatta with a cup of chilli soup and a glass of huckleberry ice tea. It set me up nicely for my continued sightseeing inside the National Park itself.
Glacier National Park – not to be confused with the Canadian attraction of the same name in the province of British Columbia – covers over 1 million acres (4,000 sq km) of Montana. It includes numerous mountains and lakes, and is home to animals such as the grizzly bear, moose, mountain goat, wolverine and lynx. Unfortunately the park, in common with many other parts of the western USA, had been affected by summer wildfires that would make 2015 the worst year in half a century for damage caused by this devastating phenomenon. As was explained to me at the entry booth, the recent fires, though not currently burning, were still going to have a fairly immediate impact on my visit: I would be able to drive the first four miles as normal, following which I would not be allowed to stop during the subsequent nine miles. This was a shame as, skirting the edge of the St Mary Lake, this section of road was particularly scenic.
My route through the park, at least initially, was known as Going-To-The-Sun Road, and after the St Mary Lake section, it took me via Sun Point, Logan Pass, Avalanche Creek and Lake McDonald through some spectacular country. Sadly, my experience of it was compromised to some extent because, although the fires were not currently alight, the whole area was still badly affected by smoke and haze. A recurring sight throughout my visit to the national park was provided by a small fleet of vintage tour buses known as 'red jammers'. The second part of the nickname is a reference to the vehicles' original crash gearboxes (i.e. unsynchronised manual shift), long since replaced by automatic transmission.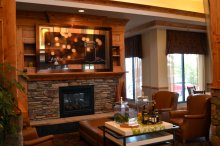 Hilton Garden Inn, Kalispell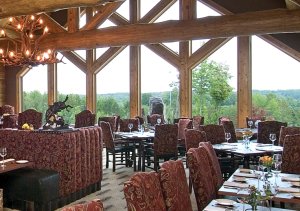 Blue Canyon Kitchen and Tavern (stock photo)
Thereafter, I had an easy run to the smallish city of Kalispell, regarded as the western gateway to the National Park. I had checked into the Hilton Garden Inn online on this occasion and, as I arrived in person, it looked as though I had been successful in choosing a good room. After relaxing for a while, I wandered through to the adjacent Blue Canyon Kitchen. Following an introductory cocktail, I had an excellent dinner of beef and vegetable soup, followed by surf 'n' turf with Boursin mash. It had been a long and spectacular first day of my road trip, during which I clocked up an impressive 299 miles. With a full stomach and lots of good memories of the various parts of the day swirling around in my head, it was all too easy to slip into a deep and satisfying sleep.