From city to resort
I was woken by my alarm at 7am and had my final Kuching breakfast in the Executive Lounge, which was busier than before. A freshly made omelette with cheese, mushrooms and onions proved to be an excellent way to kick-start a new day!
Airside at Kuching Airport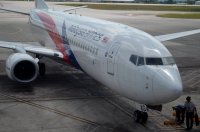 MH Boeing 737 arriving on stand
After checking out at 9:30, I took what turned out to be an 'executive taxi' to the airport. It cost MYR30 instead of the usual 26, but was well worth the small supplement of about EUR1.
The check-in agent at the airport informed me that my flight was delayed due to an earlier bird strike - a case of far too much information, I thought!

Once again, I was impressed by the clean, modern airport and the array of relatively upmarket shops. The Malaysia Airlines lounge, on the other hand, was a fairly basic affair.
(Link to flight log in side panel)
The hotel minibus was waiting for me on arrival and in no time at all I was being dropped off at the most impressive Marriott Miri Resort & Spa, where I checked in and was shown to a fabulous two-room suite. After getting to know my splendid new accommodation, and following on from the necessarily minimalist in-flight meal on my short transfer from Kuching, I realised that I was feeling very hungry indeed. The pool bar provided an easy solution to the problem, in the shape of some spring rolls and samosas, washed down with a beer.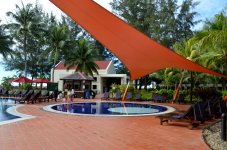 Eavesdropping on a few conversations revealed that at least some of my fellow-guests were British expats working in Brunei, for whom the resort provided a weekend escape in a different country. I was in no particular rush to return upstairs, instead taking the opportunity to enjoy the warm sunshine and the beautifully maintained pool area. After all, for the first time since my arrival on Borneo, it was now late afternoon and there was absolutely no sign of torrential rain. The only clouds in the sky were occasional wisps of the fluffy white variety.
Much later, I enjoyed a room-service dinner of Malaysian-style mackerel and rice with a coconut sauce. I felt confident that this hotel was going to provide exactly what I had been hoping for at this stage of the trip: a chance to ease off on the sightseeing and enjoy a few days of complete rest.