Raffles luxury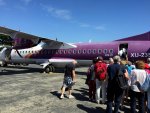 St Andrew's Day 2015 started with breakfast once again in the excellent club lounge of the InterContinental Phnom Penh. Being on more of a strict schedule today, we stuck to buffet items only, but it was still a great way to begin the day. All too soon, it was time to check out and ride the hotel's black Mercedes limousine back to the airport.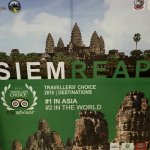 The Cambodia Angkor Air check-in experience was hideous. While the line for an ATR-operated flight can never be overly long, this one was extraordinarily slow moving, and we found ourselves in the unaccustomed position of being right at the end. Fortunately, the flight itself turned out to be perfectly acceptable.
On arrival in Siem Reap, we had something of a sense of déjà-vu when it was time to transfer to our new hotel. Raffles had sent an almost identical Mercedes to pick us up, with the same familiar amenities of powerful air-conditioning, wifi, cold towels and chilled water - all ever so stylish! Our latest destination was a city of around 230,000 people, although it seemed to have more of a small-town feel as we drove through its streets. Situated in northwest Cambodia, it is a hugely popular destination because of its role as gateway to the Angkor region.
LEFT:

Settling into the luxury of Raffles
Additional photos from Raffles website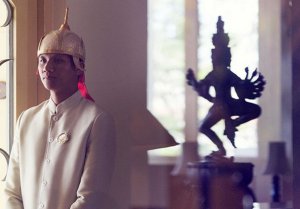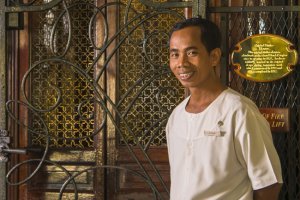 Our room at Raffles was ready for our arrival. It's funny how you can always tell when you arrive at a place where absolutely everything is exactly as it's meant to be. I think we could be forgiven for feeling quietly satisfied with the way that this particular element of the planning had turned out in practice.
After briefly exploring the hotel and its grounds, we set out for a short walk in the immediate locale and were staggered to find that our planned lunch venue, Marum, was fully booked. We had both been looking forward to sampling this restaurant as it was a member of the Tree Alliance, a Jamie Oliver-style group offering a leg-up to disadvantaged young people. In the event, we found an acceptable alternative a couple of streets away. It was then an easy walk back to Raffles, past the Angkor National Museum. We decided to reschedule our planned visit to this attraction for Wednesday morning.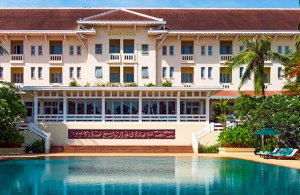 Photo from Raffles website
We both had a hugely enjoyable afternoon, lounging around by the side of the gorgeous pool at out new base, and going into the water at will. (In my case, as a non-swimmer, being in the pool was a relatively unusual event, and I enjoyed the experience all the more for its rarity, as well as for the quality of the surroundings.) All in all, it was a highly civilised and thoroughly relaxing afternoon. I'm not sure what triggered it, but at one point Bruce suddenly had the idea of emailing Marum to see if they had any tables available for dinner. Unexpectedly, given the situation at lunchtime, they had.

In the Elephant Bar, at Raffles
We finally made it to Marum
Later, after freshening up, we had cocktails in the fabulous Elephant Bar at Raffles. This was followed by a very nice dinner at Marum, where we were allocated an outside table cooled by electric fans.