Baltic Baltimore
It was Philadelphia's marathon day, and we were aware of various people leaving their rooms very early in the morning. This didn't prevent us from enjoying a bit of a lie-in and a late breakfast, however. With much quieter conditions in the breakfast room, I was able to enjoy a freshly made omelette rather than relying on the buffet. As we ate, it was interesting to see some of the runners already arriving back in the hotel lobby, covered in what appeared to be plastic and foil capes.
With time in danger of slipping away, we decided to abandon the original plan for a stroll around Reading Terminal Market and set out in the car, heading directly for I-95 and a relatively easy run to Baltimore, Maryland. With a population of a little over 620,000, Baltimore is Maryland's largest city, but not its capital. It is one of only three American cities outside Virginia to have 'independent' status, which means that it does not lie in any county. (All of Virginia's cities share this otherwise unusual feature.) Baltimore was once the second-busiest port of entry for immigrants into the USA, and the country's national anthem was written here. More recently - in April 2015, actually - the city experienced some widely publicised civil unrest, following the death of a young African American in police custody. Although I had previously passed through Baltimore-Washington International Airport, this was my first proper visit to the city and I was keen to get some idea of what it had to offer.
On arrival, we cruised around the streets of the waterfront area for a while, appalled by the ludicrously high parking charges. Eventually finding a garage that didn't feel like too much of a rip-off, we made our way on foot to the Inner Harbor area and walked around in desperately cold conditions, a biting wind threatening to chill us to the bone. The area seemed rather impressive to me and quite varied in nature. Attractions included a preserved tall ship and other assorted historic vessels, modern harbour craft, the usual shops and restaurants, and a few attractions at the more tacky end of the spectrum - Ripley's Believe It or Not! comes to mind.

We had lunch, with a supersize portion of attitude on the side, in a place called Potbelly Sandwich Works. While the food itself was reasonable enough, this outlet had the most surly, disinterested staff that I had encountered in a very long time.


The second part of the day's driving was just as straightforward as the morning journey. As we arrived back in DC well up on our expected schedule, Bruce decided to add in a tour of Washington by way of a little bonus. We drove along the southern edge of the National Mall and beyond, eventually crossing the Key Bridge from Georgetown to Rosslyn, and passing Arlington National Cemetery prior to dropping our bags off at the Marriott Crystal City. As soon as this had been done, we returned the car to the National Car Rental base at Reagan National, then took a one-stop ride on the metro to get back to our new hotel base.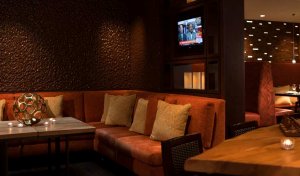 Later, we got a nice table at Bell20, the hotel's attractive lobby bar and restaurant. We drank dry martinis and enjoyed a selection of bar food, comprising (genuinely) home-made potato chips with a delicious French Onion dip, followed by soup and an attractively presented roasted vegetables flatbread.
It was an excellent first evening back in the nation's capital. (Except that we were actually in Arlington County, Virginia - but let's not get overly picky!)