Rediscovering Philadelphia
Breakfast in the DoubleTree's restaurant was very busy and not particularly good. As the egg station was queued out we decided not to use it, and unfortunately the buffet food was barely warm. The good news was that it looked like a glorious day outside, with clear blue skies and strong morning sunshine already making nearby buildings look splendid. We began our explorations by walking northwards up South Broad Street to Philadelphia's imposing City Hall, where we made a complete circuit of the building before popping into Macy's flagship store. Sadly, the magnificent Wanamaker Grand Court Organ, the largest fully operational pipe organ in the world, was obscured by Christmas decorations on this occasion. (I had been lucky enough to hear the instrument being played during my previous visit to the city.)
ABOVE: City Hall and its surrounds (final photo inside Macy's)
On leaving Macy's we strolled down South 13th Street for a bit, before heading eastwards on Walnut Street. The joint sight of the Italian consulate and more importantly Congress Hall (a former US Capitol building) signalled our arrival at the southern end of the historic area of Philadelphia known as Independence National Historical Park.
LEFT: Proceeding along South 13th Street
RIGHT: The Italian consulate and historic Congress Hall
As the name suggests, this part of the city is of enormous national significance in the US and it is under the care of the National Park Service. Indeed, the area's importance goes beyond national boundaries, for it has also been inscribed as a UNESCO World Heritage Site. Independence Hall, dating from the 18th century, is the centrepiece, being the place where both the Declaration of Independence and the US Constitution were signed. We walked northwards through the park and its various other attractions, noting as we did so Library Hall, Liberty Bell, Independence Visitor Center, Independence Mall, the National Constitution Center, and finally Christ Church, with Benjamin Franklin's grave.
After making a brief visit to the area known as Penn's Landing on the Delaware River, where we were able to look across to the neighbouring state of New Jersey, a further stroll through the National Historical Park and a left on Arch Street saw us heading in the direction of Chinatown. As lunchtime approached, this was of course no coincidence. Passing under the Chinatown gate on North 10th Street, we very quickly found a busy Malaysian restaurant going by the name Penang, which seemed ideal. I had an enjoyable midday meal of Char Kway Teow and a Chinese Tsing Tao beer.
LEFT: Penn's Landing, on the Delaware River
RIGHT: Our lunch venue is Chinatown
Bruce had been fighting a cold since I met him in New York City - one which seemed to be dragging on and on. As he'd had a particularly poor sleep on Friday night and now felt the need of an afternoon nap, my afternoon sightseeing was a solo affair. I wanted to go out along the Benjamin Franklin Parkway to the Philadelphia Museum of Art. There was no need to go inside the museum on this occasion as I had comprehensively 'done it' on my previous visit to the city. The entire Parkway area was being turned into a kind of 'Marathon Central' for Sunday's big event.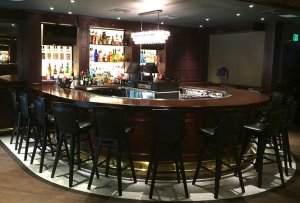 I eventually made it back to the DoubleTree with the feeling that over the course of both parts of the day so far, I had clocked up a considerable distance on foot. Happily, Bruce had managed to get an afternoon nap and felt much better for it.
A little later, we set out to sample a few venues in Philly's nearby 'Gayborhood'. We started at the well known Woody's bar and then found TOC (Tavern on Camac), a truly wonderful piano bar where live performances of popular show tunes were very much the order of the day and audience participation was actively encouraged. A most enjoyable evening out ended with dinner at a Tex-Mex place that we had spotted earlier.