A final FLW-fest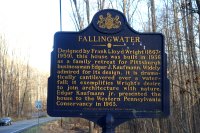 An early start was needed today, simply because there was quite a lot to fit into the available time. Following a standard Holiday Inn Express breakfast, we were on the road by 0745. Today would advance our Frank Lloyd Wright pilgrimage by a total of two further properties, but would also bring it to an end - or at least, a temporary end. We were booked on an 'in-depth' tour of the architect's single most celebrated building, Fallingwater, at 0845. It was a cold start, close to freezing, and it was a winding, rural drive to the site. Considering that the advertised opening time for visitors just turning up was 10am, it was interesting to see how many people were already congregating for pre-booked tours when we arrived. In fact, the '0845 contingent' was being split into at least four separate groups. Having arrived sufficiently early to ensure that we wouldn't miss our tour, we took refuge in the gift shop and exhibition space for a few minutes to escape the chilly outdoor conditions.
Fallingwater was constructed in 1935-6, having been commissioned by Edgar J Kaufmann Sr, owner of Kaufmann's Department Store in Pittsburgh, as a weekend retreat for the family. Being constructed over a natural waterfall, it is perhaps the ultimate expression of the architect's desire to achieve a greater harmonisation of buildings with their surroundings. When the call went out to assemble, we realised that our own group consisted of just eight guests plus our guide. The tour certainly covered the house in the promised depth, and it was delightful to be able to take photos (without flash) at will.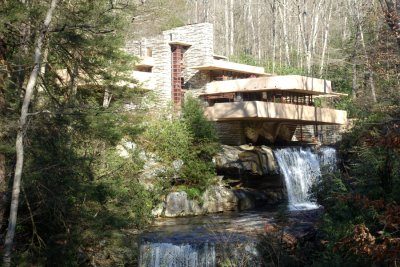 At the end of the escorted tour, there was an opportunity to walk round to the classic viewpoint, where photos would show that the house really was on top of a waterfall - truly amazing! It was an ideal way to bring proceedings to a close. This had been an expensive morning, but it was also an experience that I enjoyed enormously and I felt that it had been worth every penny.
We drove the short distance through attractive countryside to the nearby village of Ohiopyle (population: less than 60), where there was time for a short walk near the Youghiogheny River, bathed in brilliant sunshine. It was interesting to see ample evidence of the fact that this tiny community once had a railway station and a dedicated railway bridge across the river. We took our midday meal in a section of the general store that had been set aside for this purpose. I had a small bowl of beef barley soup, followed by a tasty spicy-sausage hot dog.
Following lunch, there was time for a further stroll before driving the short distance to our second Frank Lloyd Wright property of the day, and the final one of the trip: the curiously named Kentuck Knob. This one turned out to be a private tour just for Bruce and me, the property being forced to exist somewhat in the shadow of the far more famous Fallingwater.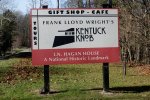 Kentuck Knob stands on Chestnut Ridge, in the western reaches of Pennsylvania's Allegheny Mountains, a mere four miles from our morning location. It was built in the 1950s for the Hagan family, owners of a major dairy business, who went on to live there for nearly 30 years. I was surprised to learn, early on in the tour, that it is now the private property of British peer Lord Palumbo, who uses it as a holiday home for his family. Because it remains a family home, no photography was permitted inside the house. Once again, however, there was enough solid content in the tour to hold our interest throughout. We ended our visit with a stroll through the grounds in the pleasant afternoon sunshine.
It was now time to drive in a northwesterly direction back towards Pittsburgh, this time continuing into the city's downtown area. Thanks to sat-nav, though I am somewhat loath to admit it

, we easily located the parking garage directly opposite the Embassy Suites hotel. Our new lodgings, facilitating the only 2-night stop of the entire trip, were located in a wonderful, classic American skyscraper, with an unusual arrangement whereby check-in was on the top floor. We were well pleased with the layout of our allocated corner suite, where the bedroom was completely isolated from corridors and promised a delightfully quiet 2-night stay.
As my trip was a few days longer than Bruce's, and with this being the only stop of more than a single night, my priority was to take advantage of this sole opportunity to do some laundry. This took up the next 1.5hrs, during which Bruce kindly visited the 17th-floor laundry room to hand me a disposable cup filled with white wine, and a suitable portion of snack mix.
After chilling in the room for a bit, we visited the top floor around 7pm for the final thirty minutes of happy hour, a lounge-style benefit accessible by all Embassy Suites guests. We then made the short walk past Trinity Cathedral to Social House 7. This turned out to be a really nice Asian restaurant, which was reasonably quiet on this post-holiday Monday evening.