A SoCal jewel, and by train to LA
La Jolla
Bruce had already been at his desk for an hour by the time I surfaced, although not surprisingly at this time of the year, business seemed to be light. I rustled up a light breakfast while noting first that the weather looked glorious, and secondly that the air was filled with the wholly unexpected sounds of lawnmowers and edge trimmers! This really cracked me up: I normally cut my grass for the last time of the year in October (or possibly November) and that tends to be it until the following March or April. Yet a maintenance squad had turned up on the second last day of the year and, what's more, the grass actually needed their attention. It may seem a small thing, but it struck me as totally at odds with everything I had ever known about the seasons and drove home to me just how different the climate was here, compared to home.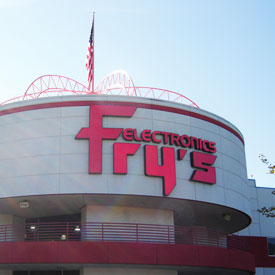 Bruce very kindly suggested that I borrow his car for a few hours rather than sit around the house on such a beautiful day. Our train to Los Angeles didn't leave until 6:30pm, so I certainly had plenty of time available. My first stop was the huge branch of Fry's Electronics that I had visited the previous September. Although it was only 10-15 minutes away, I was surprised by the change in temperature when I stepped out of the car. In North Park it had been sunny, but the air had still been a little chilly, whereas at the store it was balmy and warm. I spent some time having a look at digital SLR cameras but in the event didn't make any purchases.
I then briefly rejoined I-15 and then took Highway 52 to an old haunt: the attractive coastal resort of La Jolla. (The name is pronounced la-HOY-a and it may or may not be a variation of La Joya, which in Spanish means 'The Jewel'.) I found my way to some free parking one block from the seafront. Once again, there was a noticeable change in the weather conditions: it was distinctly cool and a little misty, compared to the warmth at Fry's. I took a stroll along the ocean promenade, including an obligatory quick look at the basking sea lions.
I then headed inland and uphill to the town centre, where I had a quick look around before having an enjoyable lunch of quiche and salad at an eatery called The Living Room, just a few doors away from the well-known Grande Colonial hotel where I had been a guest in March 2003.
As the weather was now starting to brighten up nicely, I took another walk along the seafront before heading back to North Park.
It was an easy ride back and I had safely returned the car to its parking space by 2:45.

Pacific Surfliner to Los Angeles




ABOVE: How appropriate that San Diego's Union Station should bear the name 'Santa Fe', after the railroad company that built it.

Bruce finished work at 4pm and 45 minutes later we were on board a transfer service car and heading for Union Station. A new phase had begun and the New Year 'trip within a trip' was underway! My first task at the station was to check in my suitcase, almost as though we were about to take a flight. We had a short and fruitless search in the local area for some food to take on board, but it was after normal office hours on December 30 and many places had shut down for the New Year holiday.

The boarding call came in good time and we climbed aboard the Business Class car and took the same seats (perfectly aligned with the window - trust a pair of frequent flyers!) as a few months previously, when I first rode the Pacific Surfliner on a day trip to San Juan Capistrano. As on that previous occasion, the car was busier than I had anticipated.
| | |
| --- | --- |
| The attendant handed out our snack packs and our choice of drinks (white wine) before departure. The train pulled out right on time and the familiar sounds of warning bells and the train's horn marked our passage across numerous city streets. The journey along the coast was very different in the dark and obviously not as interesting, but a sense of excitement took over, born of setting out on a long and somehow 'different' journey. Bruce went to see what the café car had to offer and returned with a couple of hot dogs and some Caesar salad. Everything proceeded pretty much on schedule and as promised, we were favourably positioned for an impressive night view of the skyscrapers as our train glided smoothly towards the end of the line, in the settlement founded in 1781 as The Town of Our Lady, Queen of the Angels. Today it is known rather more succinctly as just 'Los Angeles'. | ABOVE: The Pacific Surfliner has arrived in Los Angeles |
| | |
| --- | --- |
| | |
| ABOVE: Lobby of the Westin Bonaventure | We had a short but crazy taxi ride to the Westin Bonaventure, thanks to a driver whose shoes must have been made of solid lead and a New York-style cab with a partition between front and rear, leaving hardly any legroom in the back. Initial impressions of the Westin Bonaventure were absolutely amazing: we walked into a huge, six-storey atrium that had water everywhere. The air was filled with the sounds of running water, not to mention the distinctive smell of chlorine, and I wondered if I had actually arrived at some kind of indoor water park! There was also an interesting Christmas display of gingerbread houses featuring the distinctive shape of the Westin Bonaventure itself. When the formalities had been completed, a scenic elevator whisked us up the Green Tower to our suite. OK, so the room decor turned out to be a little on the plain side, but with floor-to-ceiling panoramic windows and a location in one of the city's iconic, landmark buildings, I certainly wasn't complaining! |
After settling in, we went back downstairs for a nice relaxing drink in the spacious lobby bar, after which I felt well and truly tired out and ready for a good night's sleep.