Solid start, shaky ending
It was just before 0530 local time on Tuesday 27 December, which meant that back in the UK it would be approaching midnight, the end of the public holiday known in my home country as Boxing Day. The British Airways Boeing 787-8 'Dreamliner' had just arrived at its allocated gate at Hyderabad Airport, and a jetty had been attached at Door 2L. Any second now, the familiar knock would come to the aircraft door, it would be swung open, and I would be free to walk up the ramp and into the terminal building, and for the first time in my life, set foot on Indian territory.

My journey had effectively started at 1pm on Sunday afternoon, when I had left home to celebrate Christmas with family in Glasgow. Unusually for such a departure, I had my suitcase with me on this occasion. Later in the day, I had driven to Glasgow Airport, parked my car and spent the night at one of the airport hotels. Early the next day, I had taken a packed shuttle flight to London Heathrow, the first time in several years that I had flown out of GLA. After meeting up with Bruce in Heathrow's Terminal 5 Galleries First lounge, we had toasted the newly begun trip with champagne before boarding the flight that had now brought the two of us to Hyderabad.


The anticipated knock soon came, and seconds later I was striding up the ramp. As a first-time visitor to the country, I had no real idea what to expect, and was braced for almost anything. What I didn't anticipate was a clean, orderly, modern and well organised terminal, with an air of calm bordering on serenity; yet that is exactly what awaited. We had little trouble passing through the various formalities and checking in for our Air India two-sector hop to Goa via Pune, despite doing the latter well in advance of the normal opening time for the relevant desk. After making unsuccessful visits to several ATMs and discovering for ourselves why the hottest Twitter hashtag in India at the time was #noteban, we spent the rest of our lengthy layover in the very nice Plaza Premium lounge, the designated waiting area for premium passengers on Air India domestic flights.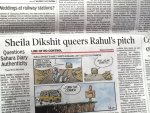 Browsing the papers in the lounge at HYD. Personally, I'd change my name!

Our flight was only a few minutes behind schedule, despite news reports of an accident involving a Jet Airways A320 at Goa. Our own AI513 had come in from Bengaluru and, as previously mentioned, was bound for Pune and then Goa. It therefore had something of the feel of a local bus service, although sitting up front certainly helped. Depending on whether or not I wanted to be charitable, the aircraft interior would be described as either shabby or skanky. Nevertheless, we both thought the service was good, and that it had a somewhat 'retro' feel, with hot meals served on both sides of the cabin divider.

Goa was another impressive, modern airport, but was subject to a ban on photography due to also being a military base. We picked up our luggage, met the Radisson Blu representative, and transferred to Cavelossim Beach in around 1hr10mins. We soon settled into our room at the hotel. The property was made up of conventional room blocks on either side of a semi-open central atrium, supplemented by an extensive array of brightly painted villas in a well manicured garden setting. Our room occupied slightly less than one half of the upper floor of one of the free-standing villas. The two twin beds had been pushed together and topped with one king-size duvet, so we asked for these to be separated as normal twins.
Following on from our cashpoint experiences in Hyderabad, brought about by a Government attempt to push the country towards being a cashless society, the first priority was to acquire some local money. There was no ATM in the hotel, but we found one in the village that was dispensing INR2,000 per transaction. We made three withdrawals each, but were further thwarted when front-desk staff at the hotel said they were unable to break even one of these notes (worth about GBP24) for us.
With the quest for cash taken as far as it reasonably could be, we explored the property and the neighbouring hotel between ours and the beach. We then took a walk on the beach itself and had a beer at one of the beach shacks to watch the sunset.
Later in the evening, we had drinks and a small-plates dinner at the in-house Sagres venue. Sadly, and somewhat surprisingly, it was a very poor experience. Our drinks were not correctly made, and the incessantly pounding techno-beat ensured a complete lack of meaningful ambience. The food itself wasn't bad, to be fair. Worst of all, I didn't receive my second drink and we were completely ignored for 30mins, while staff disappeared for some kind of unofficial 'conference' following complaints from customers at another table. We decided to get up and leave after half an hour of unsuccessful attempts to sign for what we'd had - and suddenly we existed again! A big argument ensued over why we had been ignored, then a bill was presented charging for the four ordered drinks without applying the advertised 2-for-1 promotion, and ignoring the fact that one of the four was never delivered. It took a bit of doing, but Bruce successfully argued that in view of all the mistakes and the woeful standard of service, they needed to be comping our drinks and charging us only for the food. Despite the reasonably equitable outcome, it had turned out to be a hugely frustrating evening. We agreed on one absolute definite: as far as Sagres was concerned, it was a case of NEVER AGAIN!!