My first Greek island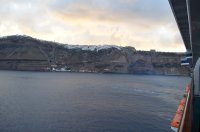 We had made a conscious decision to get up nice and early, as a means of avoiding possibly horrendous queues for the cable cars on arrival at the island of Santorini. As such, we were actually able to watch the 7am arrival from our stateroom, occasionally popping out to the balcony to capture the dramatic scenes as we anchored off Fira, the island's largest settlement and a town improbably perched right at the top of the volcanic upheaval that is Santorini. Interestingly, the island's traditional Greek name is Thira, which seems confusingly similar to the name of its local capital.
In line with what had quickly become our normal practice on Princess Cruises, we had breakfast at the International Café. This consisted of coffee (as before) and an English muffin with egg (as before), but on this cruise our customary granola and yoghurt had been replaced by a more European-sounding offering of muesli and berries. In due course, we were tendered ashore to Fira Lower Town, this proving to be a windy and choppy crossing. Surprisingly, there was no queue at all for the cable cars. These operated in fixed convoys of six small, gondola-style cars, each holding six people. One convoy made the ascent while the other returned to sea level.
LEFT: Arrival at Fira Lower Town
RIGHT: Boarding the cable cars
Following the smooth and easy automated climb, it proved to be really windy up there in the main part of Fira, and as yet not particularly sunny. Nevertheless, we had around 90 minutes to explore the town prior to meeting up for our independently booked Santorini wine tour. We put the available time to good use, but had to look where we were going every step of the way; it certainly wasn't the easiest of walking terrain in the narrow streets, paths, alleys and stairways.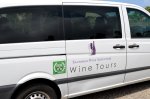 We identified the meeting point for our wine tour and in due course made our way to it. I could tell right away that we had a very nice group of eight, constituting a full van-load and made up of Bruce and me plus two Canadians, two Australians and two Mancunians.
With a programme that involved three wineries in total, we began outside at the first so that our guide could explain the unique 'terroir' of Santorini and the equally unique nature of the local Assyrtiko grape variety. In terms of the former, we learned that there is in fact no conventional soil on Santorini. The ground covering is a mixture of volcanic rock and dust, divided into lavastone, oxidised iron and pumice, and the moisture comes from evaporated seawater which is absorbed by the pumice. As for the fruit, Assyrtiko is apparently the only grape in Europe still to have native European roots. (All the others now have American roots.) The vines are hand-woven into round 'baskets'; there are no organised rows and plants are randomly distributed.
We then moved on to sample a range of wines, discussing the effect of food on the taste of the wine - for example, how cheese can remove acidic sharpness. In so doing, we found the ideal pairings between each wine sample and a range of snacks. Our young guide said that he could tell immediately that he had a good group when he saw us examining each wine's colour and testing its 'nose' (or bouquet) prior to tasting.
The second winery was a small, family-run affair and a bit less impressive than the first. Outward signs of this were that fewer snacks were provided and we were expected to re-use our glasses. The third was once again thoroughly professional and highly impressive
We were back in town by around 3:30pm and it was interesting to see the difference made by the afternoon crowds and strong sunshine. We made our way towards the cable car - or so we thought - taking more photos in the much improved light. Somehow or other (hic!), we managed to miss our way, soon realising that we had already started on the winding steps down. These would soon be shared by numerous donkeys, which formed the other standard means of transport between the lower and upper towns. Although it wasn't ideal, we decided to continue rather than backtrack upwards to the cable car station. We had to watch our step very carefully due to the roughly cobbled walking surface, the steps, the presence of donkeys and - worst of all - ample evidence of their waste products. It wasn't a hugely enjoyable experience, and due to the need for constant 'braking', it was one that we would feel in our leg muscles for a couple of days to come.
We were back on board Royal Princess by 4:30pm. After a rest, it was time to freshen up and head initially for cocktails at Crooners and then on to the Allegro dining room. Unfortunately, the dining experience on this ship was nowhere near as nice as previously experienced. Although we once again enjoyed the benefit of a table for two, the current venue had no ambience at all. Staff looked over-worked and the atmosphere resembled that of an extremely busy cafeteria. It served to reinforce an already-developing feeling in both of us that maybe this ship was just too large for its own good.