Shrines and shrubs, cameras and canapés

Bruce had accurately predicted that we would be up early with jetlag, and accordingly had planned an early start to our full-day sigtseeing programme. Breakfast was, of course, in the fabulous Club InterContinental lounge, the centrepiece of mine being cooked-to-order Eggs Benedict. We were able to adhere to the plan and were on our way by 9am, walking initially to the nearby Tameike-Sannō metro station to acquire a day ticket each. We then boarded a Ginza-Line train and rode for 13 stops to Asakusa.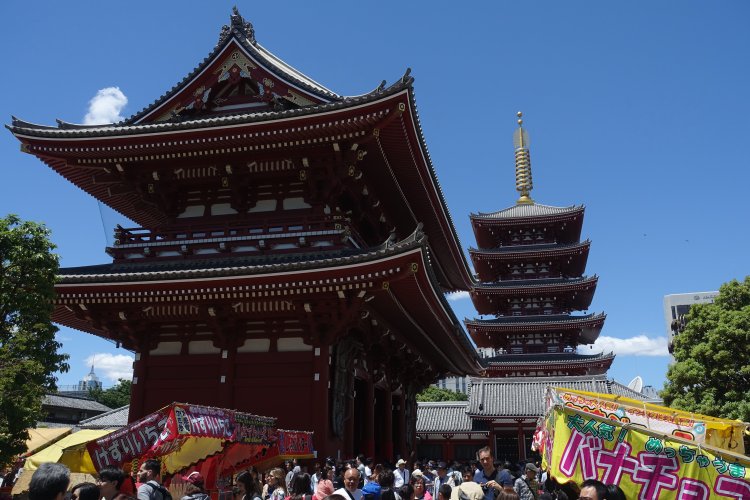 This is an 'old town' district of Tokyo, famous for an array of religious buildings and a number of religious festivals. Two of the best known buildings are close neighbours: the Asakusa Shrine is a Shinto shrine, but the most famous of all is the adjacent Sensō-ji, a Buddhist temple. Dedicated to the ideal of compassion, it is of ancient origin - and perhaps surprisingly to most Westerners, it is believed to be the most visited spiritual site in the world.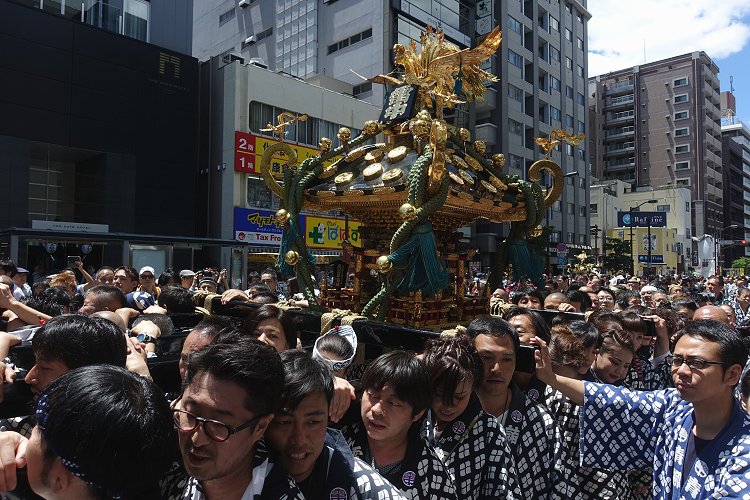 Turning now to the festivals, we were pleasantly surprised and indeed delighted to find out that the 'big daddy' of them all - the annual Sanja Matsuri - was taking place on the very weekend of our visit. This festival involves lots of parades where people (mainly men, and according to our observations, mainly well-oiled

) carry heavy Shinto shrines through the crowds. When one of these groups passed very close to us, Bruce memorably asked me: Did you catch the beer and B.O.? In truth, there was a whiff in the air suggesting that the shrine-bearers did appear to have splashed on generous quantities of Eau de Booze & Stale Sweat that morning. Ah well, it was no doubt thirsty work and they'd been at it since Friday!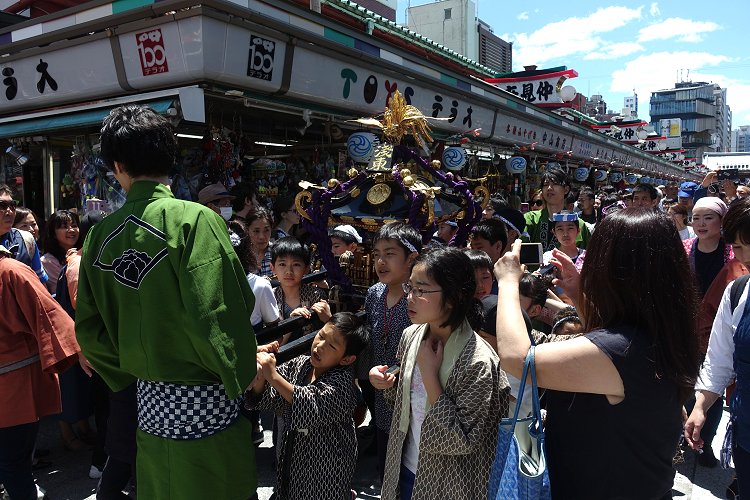 On a more secular level - or at least, with no nominal connection to religious beliefs - another Asakusa attraction was the Nakamise shopping street. We spent at least an hour exploring what the area had to offer, whether on a permanent basis or, thanks to serendipity, on this particular morning.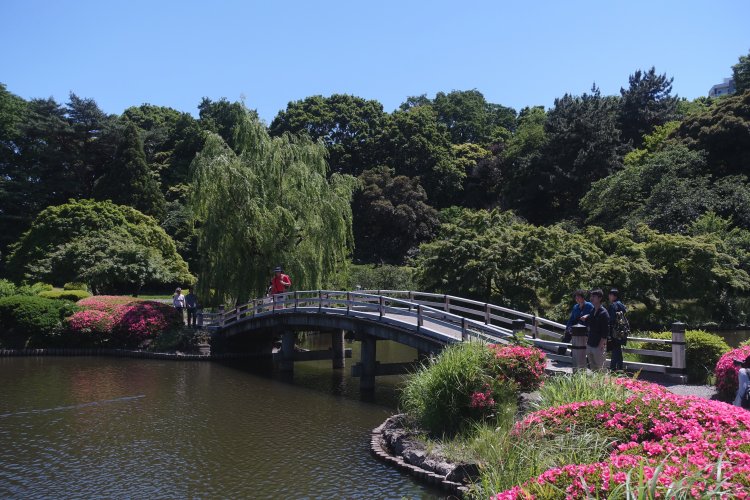 Our next objective was the Shinjuku Gyoen park and gardens, located around 10km west and a little south of Asakusa. The transfer required two trains and there was a minor hiccup with the second one when we discovered that it was operated by JR (the Japanese national railway), so that our subway passes wouldn't be valid. The park was historically the home of aristocracy, but eventually became a national park and garden. Entering by the Sendagaya Gate and leaving by the Shinjuku Gate, we enoyed the pleasant surroundings and beautiful weather, concentrating on seeing the Japanese Garden.
Walking to the heart of the busy Shinjuku district, we found a lunch venue on the top floor of the Times Square building. This provided fabulous views across Tokyo and had a nice-looking bento box concept, but sadly the food itself turned out to be mediocre.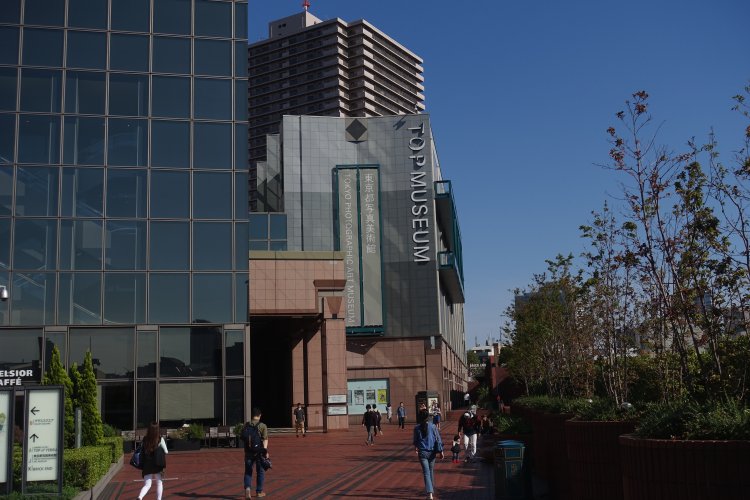 Duly refreshed, if a little disappointed at the food, we set out for our next destination, around five or six kilometres to the south. The Tokyo Photographic Art Museum, better known as the TOP Museum, is located in Meguro, a reasonably short walk from Ebisu station. The train was once again operated by JR, which meant stumping up another unexpected fare. The museum provided welcome relief from the increasingly searing temperatures outside, but sadly no photography was allowed inside the building.
We made our way back to base after that, conscious that we had done a lot and also that we wanted to once again make full use of that wonderful executive lounge! After time to cool off and freshen up, we thoroughly enjoyed a second fabulous evening in the Club InterContinental, this time drinking very well made Manhattan cocktails. As previously, there was absolutely no need for a follow-up dinner. And so ended a long, but hugely successful day in Tokyo.