Paradise / Lost
We rose at the crack of dawn, decided not to have breakfast at the hotel and took yet another crowded shuttle bus to the airport. I was once again going to be travelling on a British Airways Executive Club award ticket, and following the previous day's shenanigans, I was half-dreading what might transpire today. We checked our bags and letting Bruce lead the way, I followed as he ignored the flow of passengers heading for Terminal 4 Security and instead made for the Tom Bradley International Terminal. At this time of day we had an easy passage through Security there and soon entered the fabulous Qantas first-class lounge, thanks to having Oneworld Emerald status. Not only was this highly attractive facility almost empty, it also had cooked-to-order breakfasts available! Here was definite proof of the value of knowing your way around a place like LAX.
BELOW:

TBIT fun at LAX, despite not travelling internationally and not flying Qantas!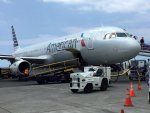 In due course we made an airside transfer back to Terminal 4 and paid a short visit to the Admirals Club before boarding our nice, new Airbus A321 (of a sub-type designated 'A321S' by American Airlines) for our flight to Kona, HI. It had the latest domestic first-class seating for non-transcontinental routes and I got to keep 4F, while Bruce got to keep 4D. A good lunch was served in such a way that it filled a decent proportion of the flying time, and international-standard in-flight entertainment took care of the rest. Overall, it was a long but comfortable flight. Clearly, I thought, AA had redeemed itself.
Erm ... no. When we got to Kona, my bag duly appeared on the belt while Bruce's did not. AAAARGHH! How could this feeling of being messed around happen two days in a row? How could two bags be checked in together, only for one to make it and one to get lost? Bruce had no alternative but to seek out the AA handling agent and fill out the standard paperwork for this event. He was not given any cash to buy essential clothing, but told to submit a claim retrospectively.

After picking up our rental car, a spacious white sedan, we diverted via a reasonably convenient Target store to allow Bruce to buy some emergency clothing. I also realised that I'd somehow forgotten to pack a pair of flip-flops, and so had the opportunity to put right that omission at the same time.


With the unscheduled shopping trip completed, we eventually arrived at the Mauna Kea Beach Hotel, marketed by Marriott as part of its Autograph Collection. Passing through the security post and negotiating the private road to the building itself, it was immediately obvious what an upmarket retreat Bruce had secured with his stash of Marriott points. We were further delighted to be given a double-upgrade from the room type booked. As I pointed out to my friend at the time: "Yesterday, American Airlines punished me for being on an award ticket and today Marriott has given you a double-upgrade on your award booking." Hmmm, what does that tell us about the respective providers?

The delight continued as we settled into our comfortable and well appointed ocean-view room, complete with private balcony. There was even a gift of fresh fruit and a chilled bottle of sparkling wine, because Bruce had his birthday within the next three weeks! Next on the agenda was a walk through the grounds so that we could get to know our surroundings and take the essential photographs. Somehow this activity managed to include a round of refreshing Mai Tai cocktails at the beach bar.

After a period of relaxation in our lovely new quarters, which included a spell on the balcony to consume the aforementioned birthday presents, we returned to the beach bar for a 'small plates' dinner of cauliflower Vichyssoise soup, ahi sashimi and quesadillas. Later, I enjoyed falling asleep - on the first of five nights - to the soothing sound of ocean waves breaking on the beach. Ah, this is the life ... zzzzzzz.