Canada's warmest welcome
Despite being aware that I had now entered a more relaxed phase of the trip, I woke up unnecessarily early. I'll wager that jet lag was at least partly to blame. As I came to my senses, I quickly recalled my recently completed four-day journey and realised that I was in Osoyoos, British Columbia, also known by the nickname 'Bordertown'. This page's heading is actually its official motto, nicely summing up both the town's proximity to the US border and its location at the southern end of the Okanagan Valley, which features Canada's mildest micro-climate. Oh, and since it isn't exactly obvious, I believe the correct pronunciation is o-soo-yoos - yep, somebody called Sue managed to work her way in there, by some means or other.
I rose about 7am, which didn't seem too outlandish, and took a reasonably light breakfast around 8 o'clock in Shores Family Restaurant. Although this was on-site, it seemed to be operationally semi-detached from the rest of the hotel. As it was a beautiful morning, I decided to go for an exploratory walk in the early sunshine. At this hour of a Sunday morning, most people out and about in Osoyoos were local dog-walkers, rather than tourists.
I checked out of the Holiday Inn around 10:15. Hitting the road in my favourite Jeep (actually the only one I'd ever driven, let alone named) for only the second time, I picked up Route 3A (the Okanagan Highway) and headed north past Vaseux Lake, Okanagan Falls and Skaha Lake. Making a stop high above the west side of the latter afforded preliminary views down to Penticton Regional Airport before making the descent into the town itself.
Penticton is situated on a strip of land separating the northern end of Skaha Lake and the southern end of the Okanagan Lake. You could therefore be forgiven for thinking that it sounds similar to, say, Interlaken in Switzerland, even after allowing for the fact that the somewhat parched, rolling countryside of the Okanagan Valley is not quite in the same league as the majestic peaks of the Bernese Oberland. But in fact the two places could hardly be more different, given the similarity of their respective positions between two lakes. Despite the potential offered by its setting, I found Penticton to be mostly dull and unattractive. For a town of its size in a rural setting, it also appeared to have an inordinate number of homeless people. I managed to take a few photos aiming to show the place at its best, but in all honesty it would have been a far easier task simply to present it "warts and all".
I had lunch in Starbucks and pressed on towards Kelowna, making an unplanned stop at Peachland. Actually it was a series of stops, as the settlement was quite spread out along the west shore of the Okanagan Lake, on a prominent bend. It seemed to be a popular spot to visit on a sunny Sunday afternoon - and a very pleasant place too, with house prices to match.
I then drove the final leg to Kelowna, particularly enjoying the spectacular approach to the city centre. (That, incidentally, is exactly how it was signposted, underlining the fact that I was north of the border.) The four-lane divided highway plunged downhill in West Kelowna with a series of twists and turns, then lurched to the left and onto the bridge, climbing steeply (presumably to allow the passage of taller vessels), then falling back down again onto the relatively level eastern lakeshore.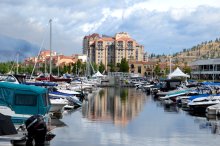 I easily located the Delta Grand and found a spot for Cheeky in the adjacent parkade. Isn't that a nice, succinct Canadian word? Just two syllables to describe what Americans call a parking garage and what we Brits, with breathtaking verbosity, refer to as a multi-storey car park. Arriving at my hotel stop for the next two nights, a friendly welcome from both the check-in agent and the concierge, combined with what I had seen of the building so far, made for highly favourable first impressions.
After settling into my room, I went for a stroll around the adjacent waterfront area in a mixture of late-afternoon sunshine and high-level cloud cover, taking lots of photos of my attractive new surroundings. It seemed that Kelowna had done what Penticton had largely failed to do, and had taken full advantage of the town's lakeside location. A new boardwalk had been created, which integrated into an existing network of footpaths to provide an attractive and popular area for strolling. The trail wound its way around a huge marina and provided access to bars, cafés and other facilities, all in a largely traffic-free environment bounded at one end by Waterfront Park and at the other by Kelowna City Park. I found it all most impressive.
I was feeling very contented by this point, but little did I realise that one of the absolute highlights of the day was still to come. I chose the Delta Grand's in-house OAK+CRU - described as a 'Social Kitchen and Wine Bar'! - for cocktails and dinner. After kicking things off with a nicely made Old Fashioned, I then had a Beef Carpaccio starter and a Cioppino main course, both washed down with a glass of local Viognier. (Cioppino, I would later find out, is an Italian-American dish hailing from San Francisco. This example featured salmon, hake and mussels in a tomato-chorizo broth.) Wonderfully friendly service and great food and drink, all delivered in an innovative, modern space that managed to be young and vibrant while also exuding quality, made this experience an absolute winner for me. What a fabulous way to end the day!