To Morro Bay, via SLO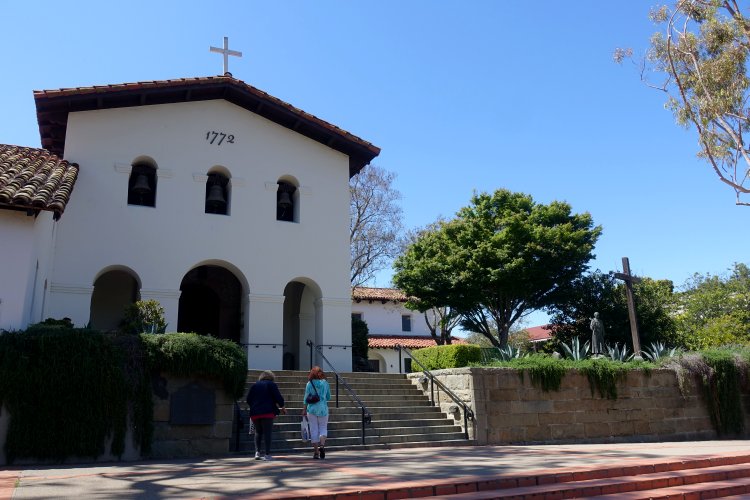 I had my third consecutive breakfast at the Starbucks branch at 'LA Live', but this time I was on my own. Bruce, who had already been working for several hours, would be finishing his working day and then flying to Oregon to stay with friends. Eventually, he would make his way back to the UK by way of Hong Kong, Dubai and Cairo, making this a round-the-world trip for him. For my part, the trip continued (albeit in a new phase) when I walked round to Figueroa Street to pick up a Nissan Versa rental car from Budget.
A sizeable chunk of my day was spent driving on Hwy 101, and most of it was really quite pleasant. My interest was piqued when I saw the signs for the Danish village of Solvang, which I had visited briefly way back in 2005. Yikes - had it really been 14 years? I made a lunch stop in Santa Maria and a considerably longer sightseeing stop in San Luis Obispo. (SLO had been my originally intended destination for the next two nights, but I was forced to look elsewhere in the interests of affordability.) San Luis Obispo is named after its historic Mission, which in turn had been named in honour of St Louis, Bishop of Toulouse. The mission is one of nine founded by Junipero Serra (1713-1784) in what was then Alta California. It intrigued me that I was visiting my second "St Louis" of the trip!
Leaving SLO on Route 1, I arrived in Morro Bay around 5pm and settled into the Best Western San Marcos Inn. Morro Rock, the spectacular volcanic plug that looks like an island but isn't quite, was clearly visible in the bright afternoon sunshine. It would be the first and last time during my stay that this was the case. Later, I had a satisfying dinner at Dutchman's Seafood House, consisting of New England-style clam chowder and three crab cakes.
03 Jun 2019: To Morro Bay, via SLO
×