Day trip to Hearst Castle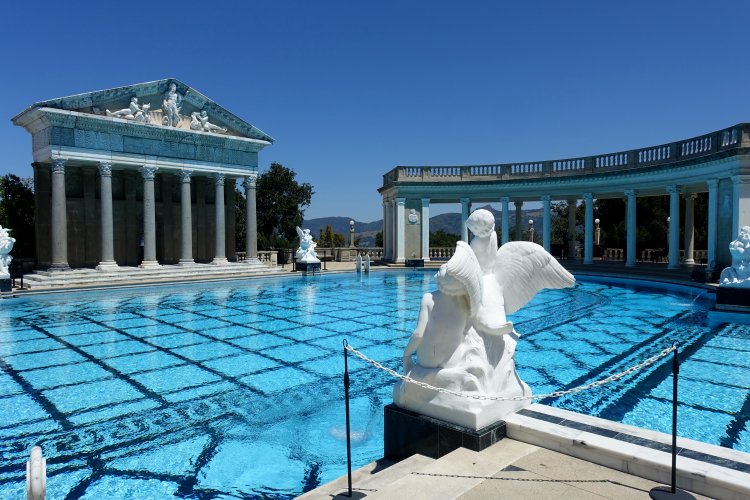 The day started with a fairly basic breakfast at the San Carlos Inn, along similar lines to what I might expect at a Holiday Inn Express. My main objective today was a visit to Hearst Castle, a well known visitor attraction that I had somehow contrived never to experience, despite numerous visits to California over many years. The house and grounds, built between 1919 and 1947, were the vision of publishing tycoon William Randolph Hearst. His fanciful and extravagant ambitions were brought to life by architect and engineer Julia Roberts, the first woman to be accepted into the highest levels of her profession. Hearst Castle is recognised at both federal and state level as a historic landmark.
I set out from Morro Bay in cool, misty conditions and was somewhat concerned that this, the final sightseeing day of this latest visit to the USA, might be spoiled by the suboptimal weather. I needn't have worried. By the time I had driven the thirty miles or thereabouts on Route 1, strong sunshine was making a good job of burning off the remaining wisps of fog. It was shaping up to be, if not a scorcher, then pleasantly warm and sunny.
I parked at the Visitor Center, bought a ticket for the house and grounds tour, and transferred uphill in a packed bus. The road frequently split into separate up and down sections for better enjoyment of the views. Apparently no trees were felled during its construction. My allocated group was given an interesting tour, first of the grounds and then the Casa Grande. I then had an opportunity to stroll around the grounds on my own - a good chance to make sure that I hadn't missed anything significant with my photos, and to avoid the worst of the queues for a return transfer to the car park.
I had a quick lunch at the visitor centre before getting back into the car. With the weather having cleared up beautifully, I took the opportunity to pull over at a number of coastal viewpoints during the initial part of the southbound drive. In similar fashion, I also took the coast-clinging Moonstone Beach Drive, continuing on into Cambria West.
By the time I got back to Morro Bay, it was again - or do I mean 'still'? - shrouded in mist. Later, I had a brief look around before deciding to return to Dutchman's Seafood House for dinner.
And so ended a wonderful day on the Californian coast, the last sightseeing day of this latest visit to the USA. On Wednesday I would drive to LAX and on Thursday I would board my first Austrian Airlines long-haul flight. On Friday I would connect at Vienna for a flight to Amsterdam, and my American trip would segue directly into a European short break in the Dutch city of Utrecht. Overall - some might say despite Amtrak's best efforts to mess it up!

- this was yet another excellent trip, almost matching the scope of my first visit to the USA in 1985. And that was a New York - Los Angeles road trip!