Stuck in the Eighties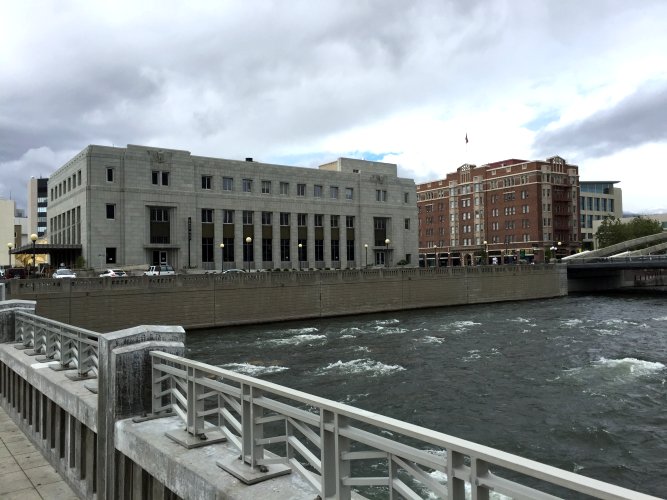 The train arrived a few minutes early into Reno and we were soon walking the short distance to the Courtyard by Marriott, expecting to drop our bags off. However it turned out that they had one room available - an accessible King - and we decided to take it for the convenience offered by immediate entry. Even better, it transpired that it had an end-of-corridor, top-floor location.
There was no need either to shower or to find breakfast; both matters had been taken care of on the train. We rested and dozed for a bit, then headed out for a look around and to find a 'proper' coffee. (We both agreed that the Amtrak version had been lacking.) We quickly found an attractive little independent coffee shop in the basement of the US Post Office building. Our introductory look around was kept short by the decidedly chilly conditions, which came as quite a shock for the last week in May. We therefore returned to base around midday for a further recharging of the batteries prior to setting out again for lunch.
About an hour later, we found an attractive lunch venue in the form of West Street Market, a vibrant little hub of food and other outlets located in repurposed industrial buildings. We thoroughly enjoyed a Japanese favourite: a bowl of Ramen seemed perfect on such a chilly day. Afterwards, our main afternoon activity was provided by the impressive Nevada Museum of Art.
After yet another interlude in the Courtyard, we ventured out a final time to have a look at the casinos. These places nearly always look better after dark, except that the Reno examples just didn't look good at any time. Compared to their counterparts in Las Vegas, they were dire. My only other visit to Reno had been during the 1980s. That's too long ago to remember exactly what everything looked like, but walking around inside the casinos on 26 May 2019, it was easy to believe that absolutely nothing had changed in the intervening thirty-odd years. From the smoke-laden air to the dodgy carpets, from the tired decor to the unhealthy-looking people piling $10 after $10 into slot machines or the next roll of the dice, I found this unsavoury blast from the past to be irredeemably downmarket and depressing. As far as I was concerned, the gambling institutions of the "biggest little city in the world" needed either to up their game or shut their doors. At least Vegas manages to make it look a bit glamorous and exciting.
We finished the day with drinks and snacks in the comparative sanity of the hotel lobby.
26 May 2019: 24hrs in Reno
×