Across the Sierra Nevada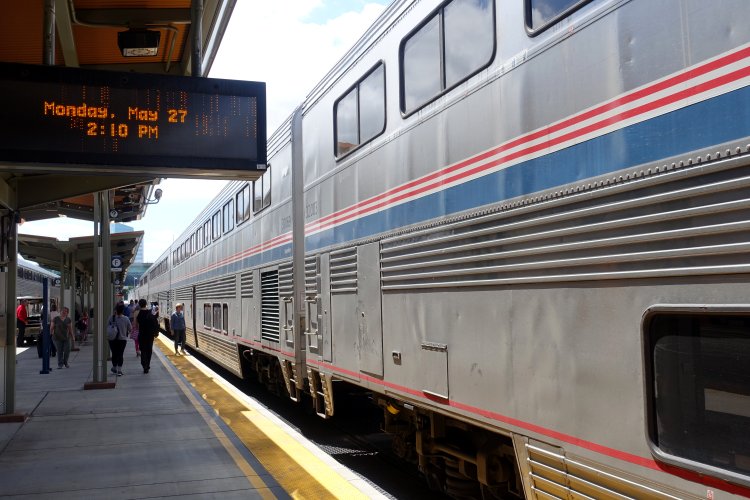 It was Memorial Day, a public holiday in the USA. We got up at 0645 and had checked out of the Courtyard by Marriott, Reno, an hour later. In a city with an annual precipitation of just 7 inches, it was raining. We took breakfast in the Starbucks concession at Harrah's casino. As if to further my dislike of this city's casinos, it was probably the worst Starbucks operation I had ever encountered. We walked the short distance to the Amtrak Station and I was slightly alarmed to see such a crowded platform on this public holiday morning. Thankfully, it turned out that the vast majority were travelling coach.
It was a good 7hr ride to the Bay Area, and once again we had booked a Family Bedroom to ensure both comfort and good views. For more details of the journey, click Trains above and look at Train 5.
Although we were booked to Emeryville, we decided to get off at Richmond for ease of interchange with BART, the Bay Area Rapid Transit system that I had first sampled as long ago as 1987. Due to a Sunday schedule operating for Memorial Day, we had to change trains at Oakland, but at least this was a guaranteed connection. We eventually got off at Powell St station and walked the short distance to our new base on O'Farrell Street. It turned out that this was a brand new Holiday Inn Express conversion, with a remarkably small footprint. (It was much larger on the upper floors than it was at street level.) Bruce and I agreed that it was probably the nicest example of its brand that either of us had ever seen.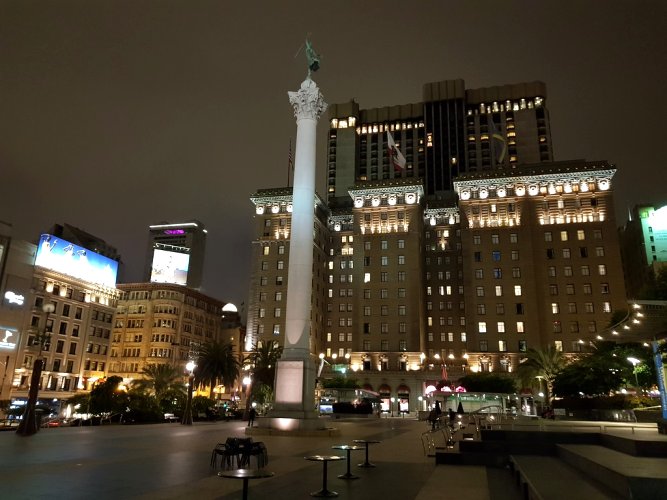 After settling in we went out for drinks and dinner, well wrapped up against the strong and chilly wind. We walked for quite a bit in search of a suitable drinks venue: most possibilities were "just not us" on closer inspection. Eventually we came across Iron Horse Cocktails, which Bruce remembered from his teens; apparently it had been a favourite of his father's. It was an all-round good experience. We both fancied Boulevardier cocktails; these were not on the menu but nevertheless perfectly made.
Later, I had delicious Salt and Pepper Crab with Eggplant at the R&G Lounge, a Chinese restaurant. The evening as a whole had turned out to be an excellent way to celebrate our arrival - once again - in one of the world's greatest destinations.
27 May 2019: Across the Sierra Nevada
×