A lazy day
I had breakfast at an outside table in the first-floor restaurant and could scarcely believe the numbers of screaming kids that were running around; it certainly didn't represent the exclusive atmosphere that I had previously come to associate with the Luxury Collection brand. Next I dropped by Reception, for a couple of reasons. First, I had in my pocket a mobile phone that wasn't mine. I'd found it in my room safe when I placed my own valuables there prior to coming to breakfast; presumably it belonged to the room's previous occupant. Secondly, I had booked a package rate involving a bottle of champagne and fresh flowers because, somewhat bizarrely, it was cheaper than the standard rate. Neither extra had been supplied. (To be honest, I couldn't be bothered chasing up the flowers, but I wasn't going to let the first item slip through my fingers!

)

With those complications out of the way, I turned my mind towards the genuine business in hand: chilling out and enjoying myself! First, I went for a short walk to explore the property and take some photos. When I got back, I noted the pleasing shape of a bottle of
champagne in an ice bucket, nicely complementing the red wine that had already been provided as an SPG Gold amenity.

In a pattern that would largely stick at this hotel, albeit more for dinner than lunch, I got my midday meal via room service. I much preferred the quiet, air-conditioned comfort of my own room, where I wasn't constantly chasing flies and worrying about monkeys trying to steal my food.
After lunch, I arranged a car and driver for an island tour the next morning and spent the later part of the afternoon lounging in a shaded area by the pool. It was very nice, except for the constant annoyance of flies. I suppose there are certain unavoidable consequences when the grounds are, quite literally, hacked out of the jungle.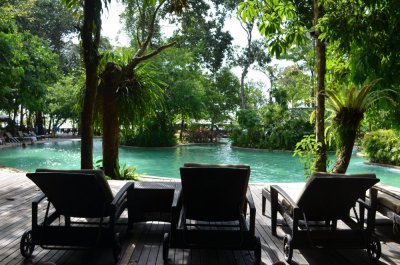 I had dinner in my room and watched a movie to end a fairly inactive, but still enjoyable day.
Sunday 03 Jun