Farewell to Yorkshire
It was necessary for me to get up fairly early, due to wanting to catch the first train of the day on the limited-service Esk Valley line. I had a lovely breakfast of Eggs Benedict before taking my leave of The Marine and walking to the station in good time to catch the 0850 for Middlesbrough. The inbound working looked busy with Whitby-bound schoolchildren.
| | | | | | |
| --- | --- | --- | --- | --- | --- |
| RIGHT: First train of the day on the Esk Valley line | | | | | |
The two-car train was a Class 156 diesel multiple unit, which on the comfort spectrum of 'Sprinter' units sits somewhere in the middle, featuring relatively spacious 2+2 seating, but falling short of the exalted realms of tinted windows, air conditioning and swing-plug doors. It was a picturesque and very quiet journey as far as Battersby, right on the edge of the North York Moors National Park, where the train reversed for the final section into Middlesbrough. As we moved closer to the town, with fleeting views available of the famous Transporter Bridge, I realised that I had left Yorkshire behind. Although Middlebrough was traditionally in Yorkshire, it has moved around a bit, forming part of now-defunct entities such as Teesside and Cleveland before emerging as a so-called 'unitary authority' (in the disagreeable parlance of officialese).


Same-platform interchange at Middlesbrough saw me taking a short ride as far as Darlington on the local Saltburn-Bishop Auckland service. This was operated by a ghastly 'Pacer' unit, basically a 1980s-style bus body mounted on a railway chassis. Dreamt up as a supposedly short-term fix for rolling-stock shortages at the time, these dreadful vehicles are still soldiering on thirty years later, but will soon finally be laid to rest by accessibility regulations. Worse still, this particular unit was full of chavvy types whose communications with each other took place at decibel levels injurious to a normal ear drum - or at any rate, to my delicate sensibilities. A further cross-platform interchange at Darlington - was this some kind of record for the UK rail system? - allowed me to complete the journey on an infinitely more civilised Cross Country service bound for Glasgow.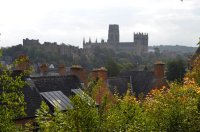 ABOVE:
Arrival in Durham
And so I finally reached my next and final destination, Durham, and arrival in this city by train was truly an experience to savour. The station sits high above most of the city centre, allowing clear views across the rooftops to the World Heritage Site that originally comprised the castle (now part of Durham University) and the cathedral, home to the Shrine of St Cuthbert. In 2008, the heritage site was extended by UNESCO to include the area connecting the castle and cathedral, so that it now covers a substantial, continuous portion of Durham's central peninsula, which is formed by the twists and turns of the River Wear.
I walked to my final night stop of the trip which, unusually for me, was a Premier Inn. (The £29 deal was impossible to resist!) Gaining immediate access to my room was an unexpected bonus. I texted frequent-flyer friend Michael, whom I was due to meet later for dinner and a long-overdue catch-up, and then set out for midday sustenance in an independent coffee shop. It started to rain and would do so intermittently for the rest of the afternoon. After eating, I continued southwards and upwards into the city's historic core, calling briefly at the World Heritage Site Information Centre before proceeding to Durham Cathedral. Although I had taken a detailed guided tour in 2009, I was more than happy to call again at such an impressive and important historical building.
Dating from the early 12th century, the cathedral is regarded as one of the finest examples of Norman architecture in the world. It is closely associated with St Cuthbert, whose grave is in the building's eastern end. Cuthbert (AD635-687) came from Melrose in the present-day Scottish Borders, but which at the time formed part of the ancient kingdom of Northumbria. He served as Prior at Melrose Abbey and later on the island of Lindisfarne, where he was initially buried. His remains were subsequently moved to the mainland and have been in Durham since AD995. The shrine has been visited by pilgrims for centuries, a tradition that continues to this day.
On this occasion, viewing the cathedral interior was hampered by the fact that the building was being prepared for what appeared to be a secular event, an operation which detracted significantly from the overall atmosphere of the place. I have very few pictures of my visit as, unlike York Minster, Durham Cathedral operates a strict ban on indoor photography.
ABOVE:

Palace Green, Durham Cathedral and its cloisters, all in rapidly changing weather!
ABOVE:

Some external views of Durham Castle
My main focus on this occasion was therefore the other half of the original World Heritage Site, Durham Castle, which I had never previously visited. I booked myself onto a guided tour at 3pm. This is the only available method for seeing the interior of the castle as, perhaps uniquely, the building is a working part of a major university. Also a notable example of Norman architecture, the castle was originally built as a residence for the Bishops of Durham, who once enjoyed prince-bishop status, with additional secular duties including responsibility for securing the border with Scotland!
The tour proved to be a most enjoyable experience, thanks largely to the knowledge and enthusiasm of our young guide. He explained the continuously evolving nature of the building, which featured Tudor and medieval sections and even a Norman arch, as well as two beautifully preserved chapels. Just like at the cathedral, though, photography inside the building was banned.

I returned to the hotel and relaxed for a while. I met up with Michael shortly after 7pm and we walked to local Lebanese restaurant Lebaneat, situated in the old town, where we were able to catch up on each other's news over a plentiful supply of food and beer. Astonishingly, four years had somehow passed since we last met!