Where the war started
It was a somewhat more leisurely start to the day than we had grown used to, and we had a nice 'healthy start' breakfast in one of the hotel buildings that looked as though it might be used for corporate functions. There was some good-natured banter from the very friendly attendant, with one of the other guests doing a sterling job of feeding her a steady stream of comments that invited a rejoinder. We strolled back to the room, finalised the packing, loaded up the car and checked out at the gatehouse. Our next objective, Drayton Hall, was just down the road - practically the next-door neighbour. We arrived early enough to book onto the first public tour, although large coach parties - thankfully forming their own tour groups - were also present.
We were given an interesting guided tour of the house by a young, post-graduate history student. In line with the terms of the bequest of the property to the National Trust for Historic Preservation, the approach here was preservation in the acquired condition, rather than restoration to former glory. This made it a very different proposition from the House Museum at Middleton Place and I wasn't entirely sure that I approved. However our young guide did an excellent job of bringing the place to life, pointing out for example the original owner's quirky use of Doric, Ionic and Corinthian columns to indicate rooms for different 'levels' of guest. First-time visitors would always be shown to rooms featuring Doric columns. If you were shown into a room with Ionic columns, this demonstrated that the host now held you in higher esteem. Anyone seeing Corinthian columns could relax in the knowledge that they had finally made it into the inner circle.
There was time after the tour to take a stroll through part of the attractive grounds. The problem with this was that there were large numbers of bugs around, and we both ended up with bites.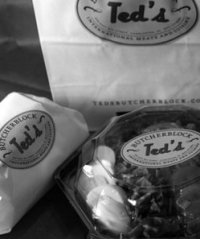 We had an easy run into town and very quickly found our next accommodation, the Courtyard Waterfront. It was, after all, right beside the twin Savannah Highway bridges, on one of which we arrived in Charleston. Our room was already available, so we were able to take a little time to get settled into our latest lodgings. The next order of business was to make our way to the Fort Sumter visitor centre at Liberty Square, to pick up the ferry tickets that we would need later in the afternoon. Fort Sumter itself is situated on a small island in Charleston Harbor and it is famous as the place where, on 12 April 1861, the first shots were fired in the American Civil War.
With tickets now in hand, we relocated the short distance to a place called Ted's Butcherblock: for the first time since Saturday, we were on course to have lunch exactly as planned! As well as being a butcher's, Ted's was a delicatessen, a wine and beer store and a popular café, all rolled into one. I ordered chicken and Waldorf salad while Bruce ordered porchetta, and we decided to share - yummy!
On returning to the ferry terminal, it quickly became apparent that it was going to be a very busy service indeed. The transfer to the island took place in glorious sunshine, with hardly a cloud in the sky. It was the first day of the trip where there had been not even a suggestion of rain. A local National Park ranger with a voice like a sergeant-major gave a short talk on arrival and then we were left to our own devices to explore the island before time for the return sailing. There were a great many people on a very small island that afternoon!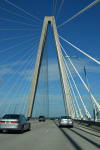 The lunchtime visit to Ted's had sparked the idea of possibly having an in-room gourmet picnic instead of dinner. Rather than returning to Ted's, Bruce had an idea and punched 'Whole Foods Market' into the sat-nav. It turned out that there was one just across the Arthur Ravenel Jr Bridge in Mt Pleasant. We both agreed that it simply had to be done. Somehow or other we managed to dispose of USD60, but we certainly ate and drank well back at the Courtyard.