Orchids and malls
I managed to get a solid eight hours' worth of sleep, tempting me to conclude that once again, I may have got off scot-free as far as jet lag was concerned. (It would later transpire that I hadn't been quite that lucky.) Breakfast was in the thoroughly pleasant Executive Lounge, which had particularly friendly and helpful staff. After a brief return to my room to get organised, I set out in pursuit of my morning objective: a visit to Singapore Botanic Gardens. These date from 1859 and were inscribed as a UNESCO World Heritage Site in July 2015, around seven months after my visit. I rode the MRT in order to position myself at the attraction's own station, situated at the end furthest from town. While the heat and humidity were going to be daunting, I knew that starting here would mean that every step I took would bring me a little bit closer to air-conditioned relief. Getting my walk underway, I couldn't help being impressed by the overall visual appeal of the gardens, which were clearly signposted and obviously well managed. In a nutshell, it was all very Singaporean.
ABOVE LEFT:

Making a start in the huge Botanic Gardens site

ABOVE RIGHT:

Symphony Lake
The first major attraction was Symphony Lake with its impressive stage, designed for open-air classical concerts. Next up, and the absolute highlight of the visit, was the National Orchid Garden, requiring a modest SGD5 entry fee. Temporary relief from the climate was provided when I passed through the Cool House, but it was all too transient.
RIGHT:




Swan Lake
The earlier musical theme resurfaced when I passed Swan Lake, and soon thereafter I walked through Tanglin Gate, just a short distance from Orchard Road. I had lunch at Starbucks (with a cold drink, obviously!) before returning to the hotel to cool off properly, freshen up with a shower and prepare for a change of venue.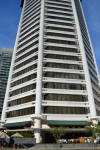 Checking out of the Hilton just before 2pm, I was asked whether I was going home or on to another destination, and was able to reply that I was going less than two blocks! Completing the transfer with minimal effort, I sat in the lobby of the nearby Marriott Tang Plaza and awaited Bruce's arrival. We were once again continuing our tradition of meeting up in locations dotted around the globe, in this case just days after bidding each other farewell in Atlanta, Georgia, USA! Our deluxe room was most impressive and much more luxurious-looking than the rather plain Hilton room that I had just left.
Having just arrived from Europe via Hong Kong for his whirlwind visit, Bruce didn't want to take on anything too strenuous today, so we agreed simply to take a look around the local area. It was my first time in Orchard Road since the 1990s, so that was fine by me. Immediate themes were heat and humidity (of course!), crowds of people and Christmas. We made our way into a couple of malls filled with one designer name after another, noting how it was possible to move from one mall to the next at basement level, without having to return to the street. Albeit for reasons relating to an entirely different type of climate, it was reminiscent of a similar capability designed into various Canadian cities. Remembering that mall food in Asia is nothing like its typically rather downmarket counterparts in the US and UK, we saw restaurants such as Teppanyaki that seemed like a good bet for dinner.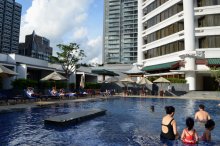 ABOVE:
Hotel swimming pool and sun deck
When we had seen enough, we returned to the Marriott and spent some time just relaxing by the pool, having found a spot that was reasonably well shaded from the direct glare of the sun. In due course, it was time to head off to the Executive Lounge (following a change of attire, obviously), where the so-called 'happy hour' in reality ran for four hours. As always seems to be the case nowadays, it was very busy indeed and we had to squeeze in where we could.
We returned to the malls in search of dinner, only to find that all the restaurants were completely full. This being Asia, however, all was far from being lost: the food courts provided a perfectly acceptable alternative. I had a beef stir-fry which was freshly cooked to order, very tasty and cost next to nothing - amazing! And what's more, there was still time to make a return visit to the Marriott's Executive Lounge for a nightcap.