Monarchs, Monks and the mighty Mekong
Breakfast time in the Executive Lounge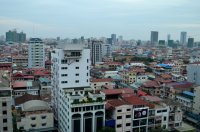 I managed to get a great night's sleep overall, yet I knew that I wasn't entirely out of the woods as far as jet lag was concerned: I had woken up at 5am and then attempted to doze until a more sensible time for getting up. The day began well, first with a chance to see our new location by daylight (left). This was followed by an excellent breakfast in the Executive Lounge (top right), with wonderfully attentive and friendly service from the staff - very impressive indeed!
Today was going to be dedicated to exploring central Phnom Penh, which like so many cities in these parts, promised to be a curious mix of French colonial style and Eastern religious influences from the past, juxtaposed with the fast developing economies of Southeast Asia today. First though, courtesy of Bruce, a little history lesson:
CAMBODIA and Phnom Penh
Phnom Penh became the capital of the Khmer Empire in the mid-15th century after it was relocated from Angkor, and remained so until the 17th century when it was reduced to a buffer state between the warring Thais and Vietnamese. The victorious Thai forces razed the city to the ground in 1772 and it remained thus until 1863, when Cambodia accepted French protection in exchange for getting the Thais out. During the colonial period, the city was rebuilt with grand villas and tree-lined boulevards. Today the remaining villas are crumbling, and the grand boulevards are mostly used as parking spaces. Some French traditions that took hold back then still survive, like the love of baguettes.

In 1941, the French crowned 19-year-old Prince Norodom Sihanouk as king of Cambodia, and in 1953 finally relinquished control of the country altogether, granting independence. In 1955 Sihanouk abdicated the throne to become a politician, ruling the country as head of his newly founded political party, Sangkum Reastr Niyum, which ran unopposed until 1970. A pro-American regime deposed him, precipitating a bloody civil war, adding further complication and misery to a country already caught up (unintentionally) in the conflict next door in Vietnam.

In 1975, the Communists were welcomed by a populace exhausted from years of bloodshed, but little did they know the horrors that Pol Pot had in store for them. He swiftly renamed the country Democratic Kampuchea, and in a bid to create a new society "with no oppressors and no oppressed," abolished money, personal property, schools, laws, religious practice, markets and freedom of movement. 1.5 million former soldiers, teachers and ex-civil servants were summarily executed as "enemies of the new society," many in the notorious Killing Fields outside Phnom Penh.

In December 1978 Vietnam invaded, toppling Pol Pot and establishing the People's Republic of Kampuchea. The United States persuaded its allies to isolate the country because of their opposition to the Communist rule in Vietnam at the time, and it remained so until 1989 when Vietnam withdrew its troops, and the country became the State of Cambodia under UN protection. In 1993 elections were held that resulted in a landslide for the royalists, and Sihanouk was crowned king for the second time. The UN held various tribunals, but Pol Pot was never tried. He died in 1998, in exile in Thailand. In 2004, King Sihanouk handed power to his son and heir, Norodom Sihamoni, and since then relations between Cambodia and the rest of the world have flourished. The resulting influx of millions of tourists annually, combined with a rapidly developing economy taking advantage of low-cost labour and relatively decent infrastructure, now bring peace and stability as the country strives to put its troubled past behind it.
Tuk-tuk fun in Phnom Penh
We ventured outside around 9:30am and asked the doorman to summon a tuk-tuk to take us to our first sightseeing objective. The fun began as soon as we left the pristine tranquility of the hotel grounds and launched into the chaotic traffic flow, immediately starting to jockey for position amid a swirling sea of cars, jaywalking pedestrians, conventional motorcycles and scooters, grossly overloaded and precariously balanced freight-carrying motorbikes, and whatever else that had ventured onto the streets. It seemed clear that the vast majority of Cambodian tuk-tuks were not the motorised tricycles that we had seen so many times elsewhere, but normal motorbikes attached to two-wheeled trailers. Our trailer was reasonably spacious and had decent suspension, making this journey considerably more comfortable than previous tuk-tuk rides.
Wat Phnom
Before long, we arrived to begin our programme at Wat Phnom, which I instantly dubbed "the roundabout wat", on account of the fact that it appeared at first sight to have been constructed in the middle of a traffic circle. Built in 1373 on the shores of the Tonle Sap River, this modest temple is the highest point in the city, reaching an elevation of - wait for it - a whopping 27 metres above sea level. (And yes, I had to concede that the roundabout had clearly come along later.) The atmosphere was far from reverent or stuffy, Bruce's guide book comparing it to a gaudy Asian carnival with flashing altar lights and elephant rides - different, to say the least.
Central Market
Leaving Wat Phnom, we headed south along Preah Norodom Boulevard for about a block and passed through part of Freedom Park, a green, linear oasis forming what appeared to be an oversize median between 106th and 108th Streets. Turning left onto 61st Street, we soon found ourselves approaching Central Market, our next stop. Known locally as Psar Thmei, the fabulous, ochre-hued Art Deco building with its immense central dome was erected by the French in 1937. It seemed to be selling everything from electronics to jewellery to food, the latter category providing the main points of interest during our visit.
Preah Sisowath Quay and Wat Ounalom
Leaving the market, we walked eastwards towards the Tonle Sap River, which flows into the Mekong in Phnom Penh. On reaching the river, we turned right and strolled along the riverside walkway to reach our next stop, Wat Ounalom. Built in 1943 and currently the seat of the Buddhist Order of Cambodia, this attractive-looking temple was the third main objective on our plan for the day. We avoided the touts offering "tours" for a price and happily looked around on our own.
ABOVE:

Preah Sisowath Quay, facing onto the Tonle Sap River
BELOW:

Exploring Wat Ounalom, around midday

Although we felt fairly hot and sweaty by now, it seemed prudent to put off lunch for half an hour or so. That way, we would be able to go to the Royal Palace feeling nice and fresh, when it reopened at 2pm. With this outline plan in mind, we took a stroll around the outside of the Royal Palace complex, which was situated close at hand, near where the Tonle Sap flows into the Mekong. Our lunch venue was the very cool, colonial-style Foreign Correspondents' Club, located on the Tonle Sap waterfront. It is also known as 'the FCC' or even simply 'the F'.
RIGHT: A short walk in the area around the Royal Palace
ROW BELOW: Our lunch venue, the FCC
Royal Palace & Silver Pagoda
The Royal Palace and Silver Pagoda are adjacent building complexes (not individual buildings) on Preah Sisowath Quay, at the confluence of the Tonle Sap and Mekong rivers. For tourist purposes, a joint ticket covered both attractions. We were relieved to find that our attire was considered sufficiently respectful to allow entry. There had been talk about legs and arms needing to be covered, but it seemed that knee-length shorts and covered shoulders were deemed acceptable, at least for men. The Royal Palace is the more northerly of the two complexes and not surprisingly, part of this (the Inner Court) forms the private residence of His Majesty. Other important buildings in this section include the Throne Hall, Moonlight Pavilion and Khemarin Palace.
Although the palace complex was busy enough, it seemed less crowded than its counterpart in Bangkok, which I had visited on at least two previous occasions. One indelible memory of this visit was witnessing the fact that mild corporal punishment was alive and well here! Photography was permitted in the open air, but not allowed when viewing building interiors. When one young man decided to flout this rule, a security guard produced a rod of some description from his uniform pocket and gave the offender a sharp rap on the knuckles with it, together with an angry verbal rebuke. Later, I saw a second miscreant receiving a hard slap hand-on-hand for the same offence - a striking (groan!) example of cultural difference.
The Silver Pagoda is situated immediately to the south of the Royal Palace and the main feature here is Wat Preah Keo, also known as the Temple of the Emerald Buddha. We took particular note of a superbly detailed model of Angkor Wat, which we were looking forward to seeing for real in a few days' time.
Mission accomplished, returning to base
Having now completed our last stop of the day, we took a tuk-tuk back to the hotel, with a driver who spent far too much time leering at women instead of concentrating on the road. With the sun still shining, we were able to spend some quality time relaxing by the hotel's outdoor pool, which was a nice way to recover from a fairly intensive bout of sightseeing. Later, we enjoyed drinks and snacks in the club lounge, followed by dinner in the lobby bar.
LEFT: Drop-off at the hotel, then to the pool!
RIGHT: Dinner in a very quiet lobby bar