On campus
I had breakfast in the hotel, which seemed entirely sensible as it was only USD12. I had booked the hotel's complimentary shuttle to the historic campus of the University of North Carolina at Chapel Hill (better known as UNC) for 9:30am, the advice from the front desk being that parking at the location was a nightmare. Following a stress-free transfer, I spent an enjoyable hour or more just walking around and photographing the attractive buildings and other structures on the campus of one of the oldest public universities in the United States. These included the Morehead-Patterson Bell Tower, the Old Well and the Silent Sam statue, as well as South Building, Wilson Library, Bingham Hall, Dey Hall, Manning Hall, Carolina Hall, Hanes Hall, the Alumni Building, the Morehead Planetarium and the Chapel of the Cross. As you can probably guess from that list, there was plenty to keep me interested!
I got picked up at 11am and was swiftly returned to the hotel, where I packed my small, overnight bag and set off for Raleigh-Durham Airport, filling up the tank on way for the princely sum of six dollars. This must surely have been the lowest mileage that I had ever put on a rental car!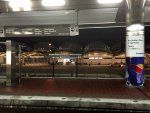 I spent some time in the great little Admiral's Club at Raleigh-Durham, where the staff were especially friendly and helpful. Both short hops back, first to Charlotte and then to Reagan National, were on US Airways-liveried A319s. On arrival, I took the metro to Huntington and the shuttle van back to the hotel, arriving just after 7pm. Bruce had only just finished a long day at work.
Later, we walked up the hill past Monday's Mexican restaurant to a small Vietnamese place, where we enjoyed an evening meal of Chicken Phö. Back at the hotel, we watched the latest developments in Paris on TV and I fell asleep around 10:15, pondering my successful little excursion to North Carolina.
Wed 18 Nov