Exploring Oaxaca
We got up at our leisure and had breakfast at the hotel. (As is usual for a Holiday Inn Express, this was included in the room rate.) The breakfast area was on the small side and very busy; there was an outdoor area in the pool courtyard, but it was on the chilly side due to the huge night/day temperature range in what was basically high desert. In due course, we set out to explore Oaxaca on this gorgeous-looking Sunday morning. The commentary on this page will focus on the major sights, while the photos give a wider coverage of the day's activities.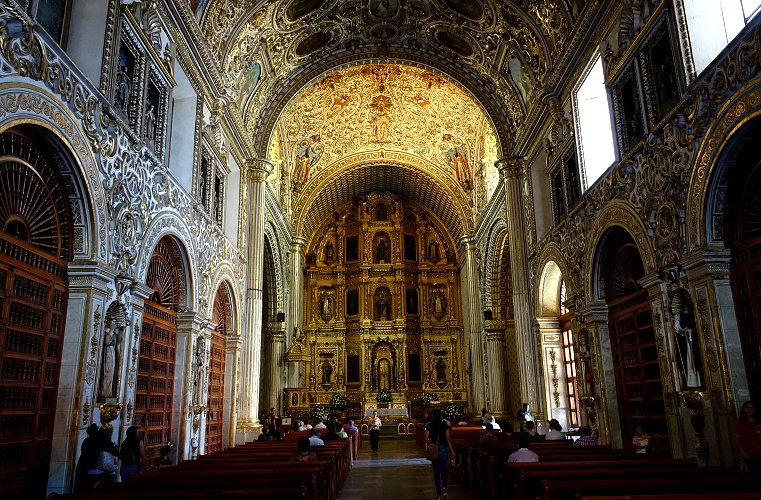 Our first stop was the Templo de Santo Domingo de Guzmán, located not far from the hotel. This substantial complex, consisting of a large church and former monastery, was built between the late 16th century and the early 18th. The architecture is Baroque. The Dominican Order pulled out in 1857 and the complex entered a lengthy period of military use. The church was returned to religious use in 1938, with the former monastery starting a new career first as part of the university and then as a museum. Following the church building's extensive restoration, we found a sumptuous interior with a spectacularly rich finish, featuring lots of gold leaf. It really was breathtaking! At the same time, it seemed strange to be able to visit this church as a tourist on a Sunday morning, in the second-most Catholic country in the world - yet time would soon show that we were able to do this in each of Oaxaca's churches that we chose to visit.
[As a side-note, Mexico is the second-most Catholic country in the world, after Brazil. However Oaxaca State, with a greater proportion of indigenous people, is the least Catholic of Mexico's federal states, with a nominal membership of "only" 85%, of whom less than half are regular attenders.]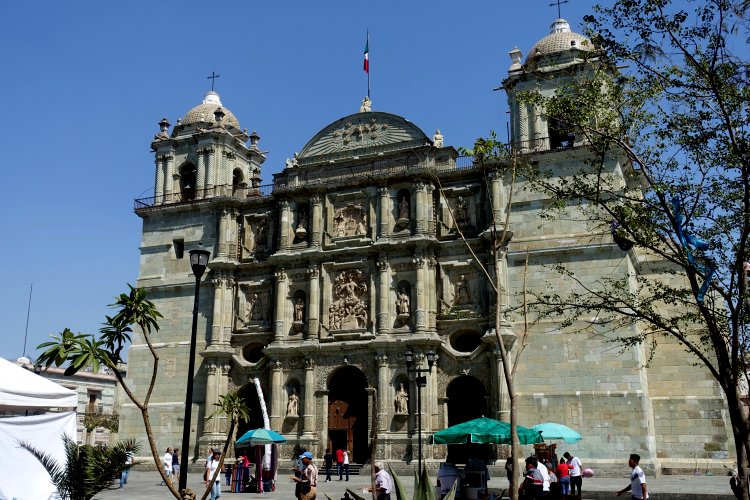 The religious theme continued with our second main port of call, Oaxaca Cathedral. Situated in the Zócalo (main square), the current building dates from 1733. Typically in Mexico, the building we see today is a replacement for at least one predecessor that suffered destruction by earthquake. Perhaps bearing in mind its potential vulnerability to a similar fate, the cathedral has been constructed to have a remarkably "low and wide" appearance. They were getting ready for a service when we arrived, but it was possible to have a quick look around without getting in anyone's way. It turned out that the interior was also remarkable, in this case for its segmented, "chopped up" appearance. This was clearly a large building, yet the inside was striking for its lack of open space. Perhaps this was a further defence against vulnerability to damage.
On leaving Oaxaca Cathedral, I couldn't help thinking that it must be just a little bit galling to clerics based there that the city's undisputed ecclesiastical highlight is not this building, but rather a restored former military barracks!
Turning now to the theme of art, our third main stop was at MACO (Museo de Arte Contemporáneo, Oaxaca, or Oaxaca Museum of Contemporary Art). This was situated back on the Calle Macedonio Alcalá, the pedestrianised (and therefore tourist-friendly) street running from our hotel to the city centre. Built around an internal courtyard, the museum provided a pleasant setting for visiting exhibitions. We enjoyed 'Under the Cobalt Blue Sky', a collaborative production by local artists and their counterparts in Los Angeles and New York City.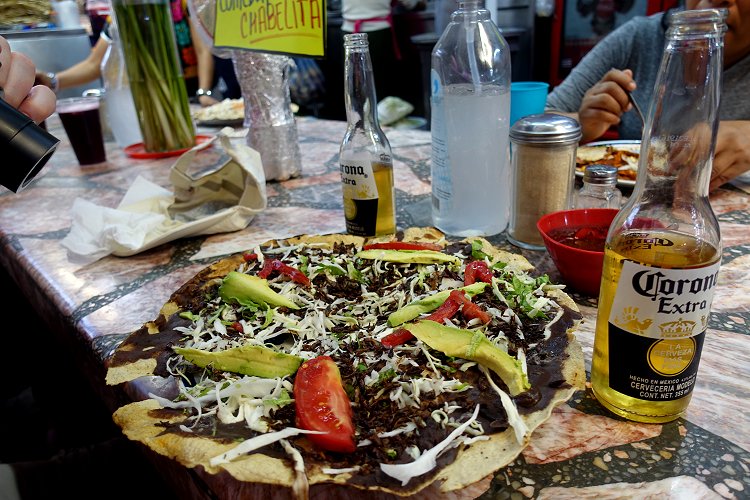 Our fourth main stop was the Mercado 20 de Noviembre. The principal motivation here was lunch, and I sampled my first Tlayuda, a kind of Mexican version of pizza. It consisted of a large and thin fried tortilla, spread with lard and refried beans, and topped with Oaxacan 'string cheese', cabbage, avocado and chapulines (fried grasshoppers!) This felt distinctly adventurous, but was actually really nice. This stop also gave me my first experience of a walk through the den of smokiness that is 'Meat Alley' - but much more of that tomorrow!
After that, we headed back to base, with brief 'Take Two' photo stops at both the cathedral and Santo Domingo: in both cases, the sun was now in a far better position for photographing the exterior. As the walk progressed, we both felt our energy being sapped by the afternoon heat. Upon our return, the first order of business was to arrange the following day's excursion to Monte Albán, as well as Tuesday's airport transfer.
There followed a short, unplanned snooze and then some thoroughly enjoyable pool time. Unlike the previous day, we had sole use of the pool and its attractive courtyard setting. We started the evening by drinking some wine in the room, accompanied by olives and snacks. On going out to find dinner, we were initially alarmed by the number of 'Closed' signs on this Sunday evening. We eventually found a little pizzeria - not very Mexican, but enjoyable none the less.