A very special day in Nagasaki
We had a full programme for today, so aimed for a nice early start. Surprisingly, it was actually too early for our preferred coffee shop, so we ended up buying a couple of food items - mine was some kind of hot dog - together with two cold coffee-based drinks, and consumed these at a table on the station concourse gallery, which at least was under the overall station canopy.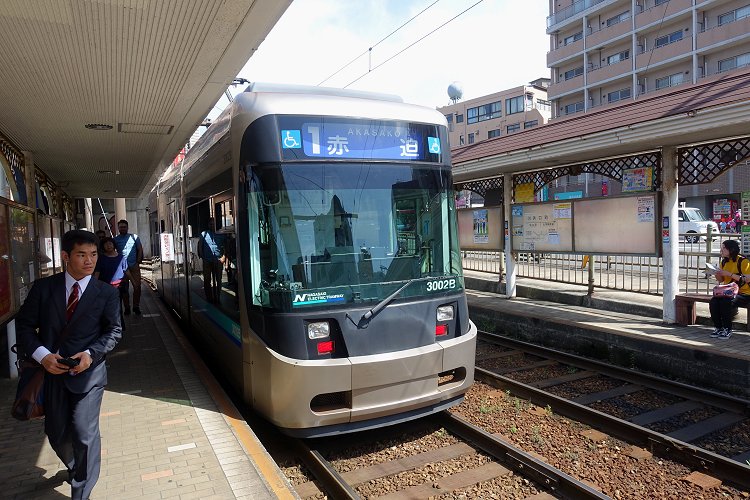 We set out just before 0900 and after buying day passes for the trams, caught a busy No 1 service towards Akasako, alighting at Hamagucho Machi. Our objective was the hugely impressive Nagasaki Atomic Bomb Museum, which tells the story of what led up to the 1945 nuclear attack on the city. The museum was built in 1996, and an integrated visit is possible covering this and the adjacent Nagasaki National Peace Memorial Hall for the Atomic Bomb Victims, which was added in 2003.
At 11:02 a.m. on August 9, 1945, the sky above Nagasaki was filled by a white flash, and all the clocks stopped. A gigantic mushroom-shaped cloud soared up towards the blue sky. What's going on? What's happened to everyone? Even now the debris of the magnificent collapsed cathedral, torn clothes and melted bottles silently tell a story. We will continue to relay a message of peace from Nagasaki, a message passed on by the survivors, who overcome great difficulties in the hope that the people of the world can join hands and face a future free of nuclear weapons.
We easily got inside, but had only been there for a couple of minutes when a sizeable school group entered. This was quickly followed by another, then another, then another, ... If this had been almost anywhere in the western world, I'd have been panicking - or at the very least, deeply uncomfortable. Here in Japan? Absolutely no issue whatsoever. Once again, they were all immaculately turned out, and there was no yelling, no pushing, no winding each other up and no sullen, bored faces. Some - mostly boys - would break into a broad smile and say: "Hello!" Others might then try to trump this with "How are you today?" or "Nice day!" You have to assume that Japan has a great future ahead of it, when so many of its young people are well educated, motivated, polite, hard working and thoroughly civilised.
As we continued round the recommended route - and this being Japan, everyone did - we wondered how it could be that so many school groups had turned up today. Was it like this every day? The answer, of course, was 'no'. Just like four days ago, when we happened to turn up in Tokyo's Anakusa district during the Sanja festival, serendipity had decided to strike again. We had arrived at the museum on the one day per year when a particular ceremony takes place. What's more, we reached the area where this occurs, completely by chance, around ten minutes prior to the start.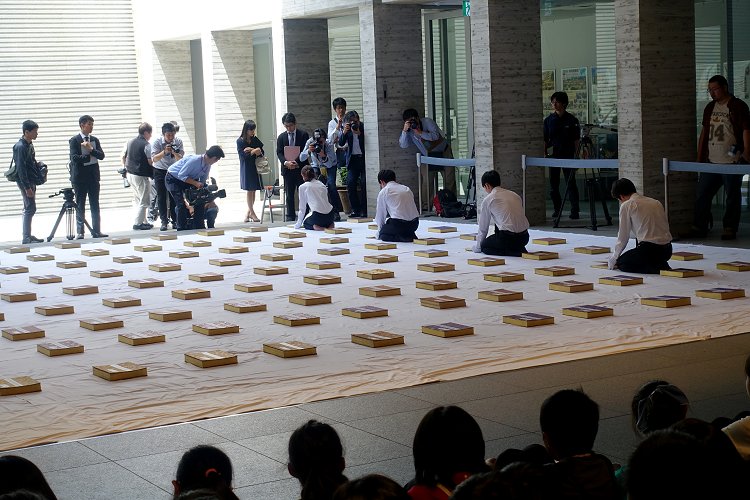 The ceremony itself was partly a practical act of preservation, and partly a solemn act of remembrance. One of the museum's most precious artifacts is a multi-volume register of the names of the victims of the atomic bomb. Once a year, these books are brought out into the open for airing. The books were laid out in a courtyard, in a rectangular array of rows and columns. A group of young people, employees of the city council, performed the ceremony: one participant for each row of books, who was kneeling in front of the book at one end of his/her row, with gloved hands. At precisely 1102, the time that the atomic bomb was exploded over Nagasaki on 9 August 1945, each young person opened his/her first book and turned the pages one at a time, briefly exposing each to fresh air and sunlight. On completion of each volume, participants would shift to the side and start again. The ceremony was over when each young council employee had closed their final volume. It was a simple but moving affair and once again, perhaps the most memorable part was the sight of hundreds of schoolchildren observers, all well turned out and standing in respectful silence.
There were two further things that we wanted to see prior to leaving this part of the city. The first of these was Immaculate Conception Cathedral, also known as Urakami Cathedral. This dates from 1959, the original having been destroyed by the atomic bomb in 1945. Our experience here was not especially positive: there wasn't much of a welcome for tourists, and the interior was roped off a couple of metres away from the doors.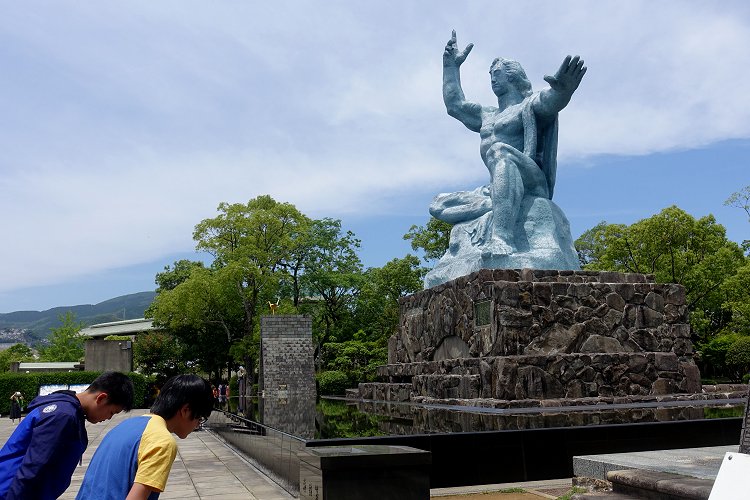 The nearby Peace Park was an altogether different affair and was thoroughly impressive despite being crowded with all the schoolchildren who had previously been visiting the museum. Once again, the children were well behaved and respectful, carefully bowing their heads in front of the main Peace Statue. Their park visit seemed to serve two subsidiary purposes: to facilitate group photos and to provide a suitable location for eating their packed lunches. As far as the latter were concerned, there were no burgers, chips or chocolate bars in sight! Each child had his/her bento box with fish, rice and vegetables. (Need I add that there was absolutely no pinging of food at each other?)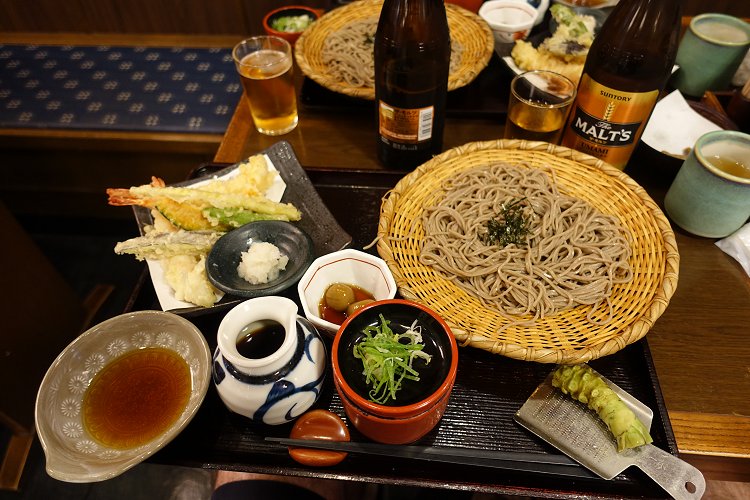 Still lacking lunch ourselves, we took a tram back to the city centre. We initially tried Dejima Wharf, but this looked touristy and over-priced. We returned to the familiar territory of the station mall, and on this very warm day went for cold soba noodles and tempura.
Duly reinvigorated, we continued our explorations by taking two trams to the Ishibashi district. En route to Oura Church, we stumbled across a Japanese Shinto shrine and decided to go in for a look. People were preparing elaborately sculpted decorations made from tree branches. They were extremely friendly and were happy to let us look around. (We couldn't help making the comparison with our earlier attempt to visit the cathedral!) Not for the first time today, this was a genuine travel experience, as distinct from mere sightseeing. Additionally, there was an interesting cemetery built into the adjacent hillside.
In due course moving on to Oura Church, we were a little surprised to find that there were actually two of them! The 'new' one was nothing much from a tourist point of view, while the 'historic' one was so hideously overpriced that we decided not to visit. It clearly wasn't the greatest of days for Christianity giving a good account of itself!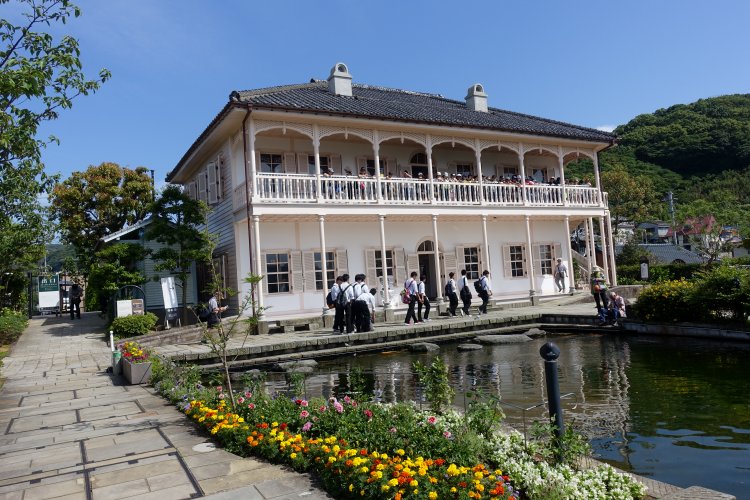 Our final objective during the main part of the day was the Glover House & Garden. Completed in 1863, the house is the oldest western-style wooden building in Japan. It was built by Thomas Glover, a Scottish merchant who moved to Nagasaki when the port opened to foreign trade in 1859. We both enjoyed having a good look around in the glorious afternoon sunshine before eventually returning to base by tram for a well earned rest.

Later, we had cocktails at Bar MoonLight. This was part of the nearby Hotel New Nagasaki, which provided highly impressive surroundings. Somehow, the bar staff managed to get our order wrong, delivering whisky shots instead of Manhattan cocktails. Horrified when the mistake was pointed out, they then sent perfectly made Manhattans and comped the original shots. Finally, we brought a busy and fascinating day to a close by enjoying fairly standard dinner 'sets' in the ever dependable station mall.