Exploring Kagoshima
We woke up around 0715 and from our room window we could see a huge queue of high-school pupils waiting for the school bus. They were all immaculately turned out in uniform and standing in pairs, with no yelling, horseplay or any kind of bad behaviour. As if I needed reminding, we were in Japan! After the usual ablutions, we had a fairly basic breakfast in Seattle's Best; judging by the quality of the coffee, it wasn't a great advert for the Emerald City.
Destination Facts: Kagoshima

| | |
| --- | --- |
| - | The name Kagoshima can refer either to the city (Kagoshima-shi) or the wider prefecture of which Kagoshima-shi is capital (Kagoshima-ken). |
| - | The city was founded in 1889. |
| - | The current population is approximately 607,000. |
| - | Situated on the south coast of Kyushu, it is closer to Seoul, South Korea than Tokyo. |
| - | Kagoshima City is sometimes called The Naples of the East because of its bay location, warm climate and the nearby presence of an active volcano. |
| - | The city is twinned with Changsha (China), Miami (USA), Naples (Italy) and Perth (Australia). |
| - | The wider area (Kagoshima-ken) is Japan's largest producer of Shōchū. Not to be confused with Sake (rice wine), this is a distilled spirit that can be made from rice, barley, sweet potatoes or a number of other crops. |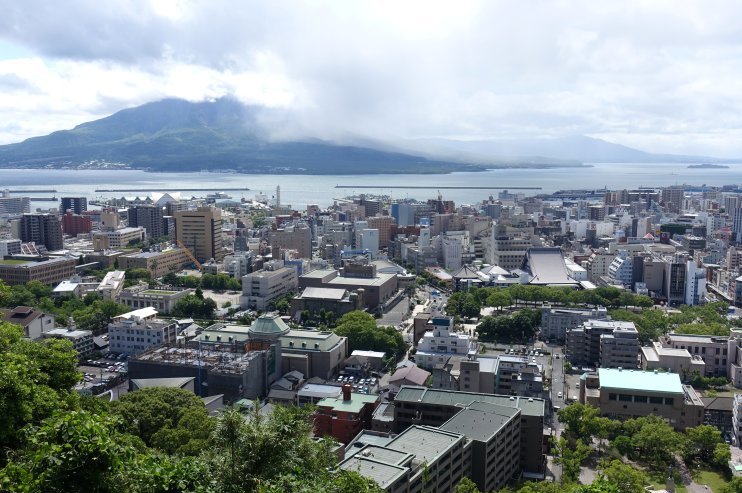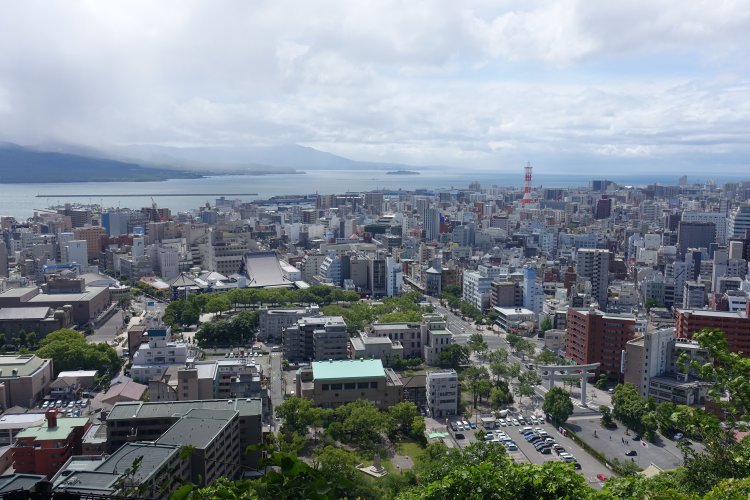 Bruce had prepared an outline plan to give some shape to our full day in Kagoshima, and by 0930 we were ready to set this in motion. The first step was for each of us to acquire an oddly titled 1-Day Welcome Cute Pass, giving access to a range of public transport options. (I wonder who came up with that name!) Armed with these, we then caught a City View Bus to Shiroyama Park, situated about 2km southwest of the city centre, on a hilly area close to the ruins of Takayama Castle. The observation deck gave impressive views over the city and across to Sakurajima, Japan's most active volcano. Even as we enjoyed the views, the volcano was releasing a steady stream of smoke and ash into the atmosphere.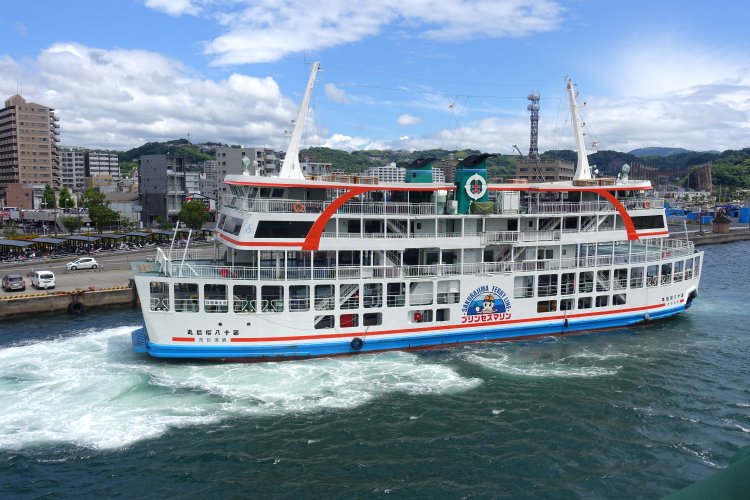 Another advantage of looking out from a viewpoint is of course that it affords the possibiity to identify other places of interest, and to gauge where they are and the relative distances involved. After identifying the Sakurajima ferry terminal, we decided to walk to this, rather than take another bus, a decision which in turn allowed us to take a closer look at the castle ruins. It turned out that the ferries sailed every 15 minutes. The vessels seemed improbably high, with three car decks and further passenger decks - just as well they were confined to these still waters!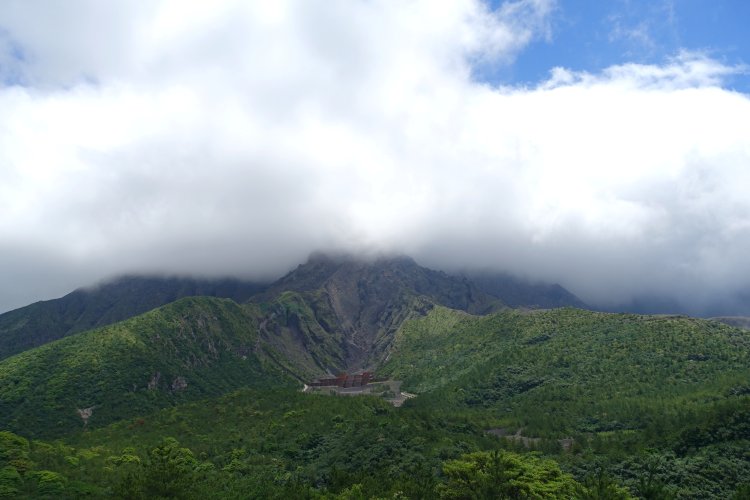 On arrival on Sakurajima - the name means literally Cherry Blossom Island, except that it should probably be former island, as lava from the 1914 eruption connected it with the Osumi peninsula - we boarded the Island View bus for immediate departure. This was a service bus masquerading as a tour coach. There was only one bus per hour, which made a series of strictly timed stops at various attractions and viewpoints to allow brief visits and photos. Heaven help anyone who didn't adhere to the schedule!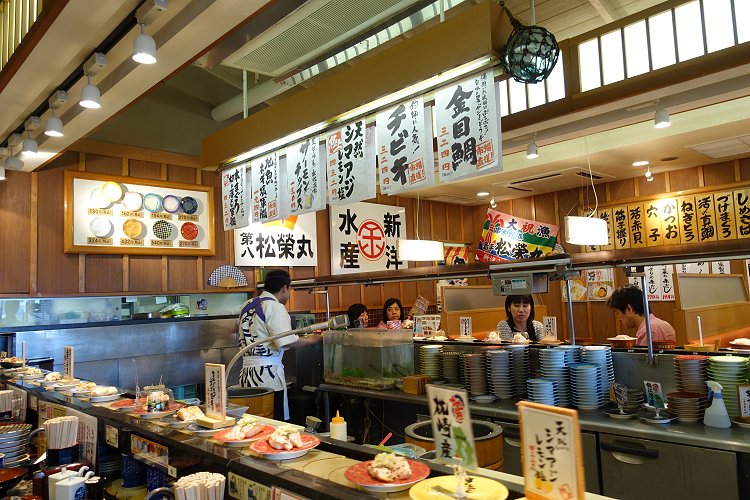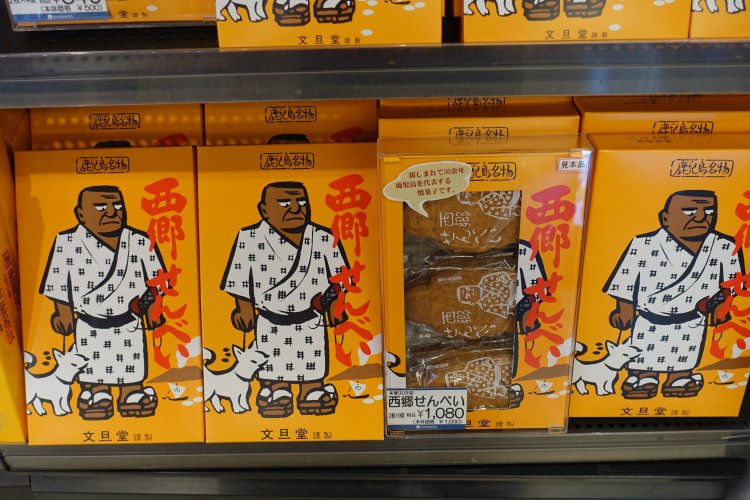 On return to the pier, we took a brief walk around the shoreline and then boarded a ferry back to the city. Following a short walk to the Dolphin Port area, we easily found somewhere to eat. To be honest, we actually made a mistake and ended up next door to our selected venue. This may well have been a stroke of luck, as we found ourselves in a popular sushi restaurant, where we had an excellent lunch comprising a mixture of small plates of sushi, sashimi and other delights. Once we had eaten, we found ourselves browsing a souvenir shop and being fascinated by the cultural differences revealed in a series of weird cartoon characters which adorned the packaging.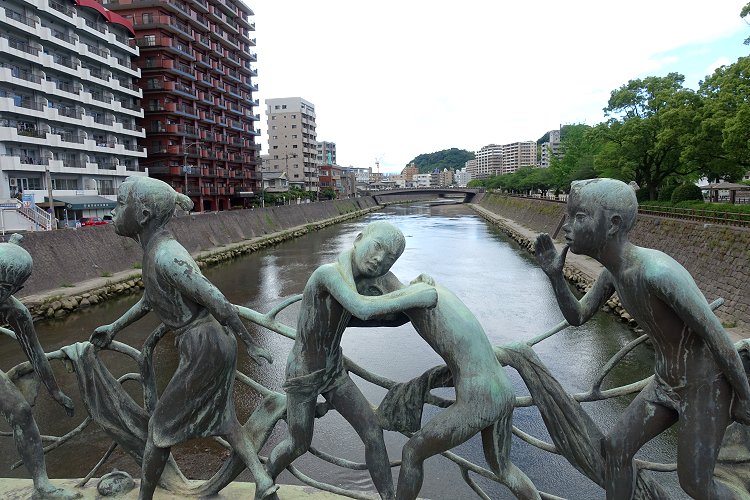 In due course, we took a No 2 tram to Takamibaba and continued on foot via the Tenmonkan Densha Dori bridge across the Kotsuki river, the bridge being noted for its statues and sculptures, as well as the use of marble. It was a relatively short walk from there back to base. During the walk, we were kept interested by observing some of the realities of living in the shadow of an active volcano. These included street-sweeping machines specially made for ash disposal.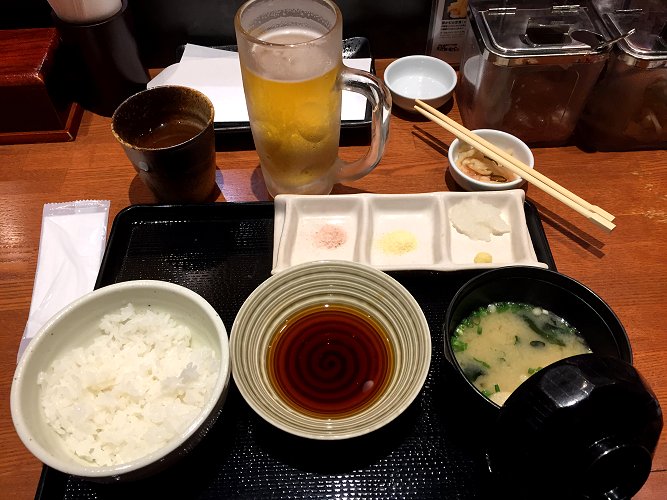 Later on, only a light dinner was needed. We found a nice place in the main station and enjoyed an inexpensive, but nonetheless impressive combination of rice bowl, tempura shrimp and vegetables, and a bowl of miso soup, all washed down with a refreshing beer.