Some enchanted evening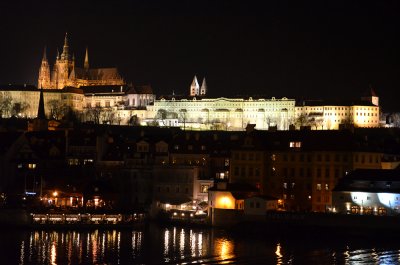 ABOVE:
An introductory view of Prague Castle from the Charles Bridge
I stood on the Charles Bridge in the chilly darkness of an early-spring evening and gazed at the vista that lay before me. In front of me and to my left, on the distant bank of the Vltava river, the shadowy outlines of Prague's Little Quarter emerged from the waters, the bright lights of riverside attractions playing on the surface and giving rise to shimmering reflections. Behind these, more gentle, yellow-tinted glows emanated from numerous windows, each indicating an anonymous spark of local life and together giving just enough light to make the individual buildings distinguishable. Sitting above all of this, and seemingly growing out of it as though pushed up by some almighty primeval force, was Prague Castle. The positioning, combined with full-on floodlighting and the assortment of pastel shades, made me think of a particularly appealing layer in a tiered cake - an elaborate and whimsical confection where the chef had run amok with a limitless supply of icing sugar and those little bottles of food colouring. And still it didn't end there, for growing out of the castle in turn and sitting triumphantly on top of the whole magnificent ensemble was the great cathedral of St Vitus, its impressive bulk thrusting skywards as if in a spirited attempt to touch the heavens themselves. I had imagined this view in my mind's eye for several weeks prior to the trip, and now I was able to savour the reality. I took my time and let my surroundings work their magic, realising that just as I had hoped, the experience was acting like any good appetiser and making me eager to start on the main course, in this case a full exploration of the Castle District the following day.
I knew how good it felt to be back in this wonderful European capital after a gap of nearly nine years. Beside me stood my friend Bruce, for whom this was a first visit to both the city and the country. Earlier that day we had met up at London's Heathrow Airport, and being dyed-in-the-wool frequent travellers were able to enjoy the attractive Cathay Pacific lounge in Terminal 3 before taking our British Airways flight to Prague's Václav Havel Airport. (The airport is, of course, named after the mild-mannered writer who became the much revered and honoured final president of Czechoslovakia and first president of the Czech Republic.) After installing ourselves at our chosen hotel, the Hilton Prague Old Town, we had partaken of cocktails and canapés in the executive lounge there, before embarking on an introductory stroll through the Old Town to our present location.
BELOW:
On Charles Bridge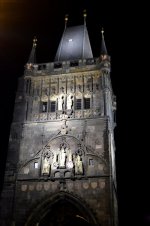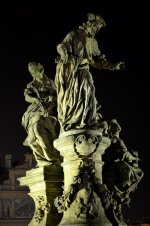 Prague Old Town
by night

CLOCKWISE from TOP LEFT:

1. Powder Tower 2. Tyn Church 3. Astronomical Clock 4. St Nicholas' Church 5. Colourful facades 6. Carnival time! 7. Old Town Hall
Eventually, we realised that it was time to tear our eyes away and move on; the chill in the air had got ever more pervasive, the longer we had become mesmerised and allowed time to slip away while standing still. As we slowly began to retrace our steps, however, it was clear that the show was far from over. Below us, the mighty Vltava made its way northwards towards its confluence with the Elbe, less than 50km away. Although the waters weren't always easy to see in the darkness, I nevertheless imagined that I could feel the river's power surging along beneath my feet. Not surprisingly for a classical music fan, a particular movement from Bedřich Smetana's tone poem Má Vlast ('My Fatherland') was playing inside my head - the one named after, and inspired by, the very river over which we were now passing. The floodlit sculptures on the Charles Bridge took on a ghostly aspect in the night air as we walked the final section and arrived back in Prague's Old Town, on the river's right bank.
We made our way back to Old Town Square, seeing the striking Old Town Hall, Tyn Church and St Nicholas' Church, all impressively floodlit. Although the present-day Czech Republic is statistically one of the least religious countries in the world, it was only a few days before the beginning of Lent and there was evidence that the city was in carnival mode; it seemed that the good citizens of the capital were sufficiently pragmatic to recognise an excuse for a party when they heard one. We stopped off at an authentic-looking beer hall on Celetná Street to sample the local product along with some tasty and unexpectedly spicy sausages. This also gave us the opportunity to try a shot of Becherovka, a rather pleasant herbal spirit produced in Karlovy Vary, which was destined to turn up again (and again!) as the trip ran its course.
Stomachs and senses satisfied, we returned to the Hilton, ready for a good night's sleep. The introductions were over and tomorrow we'd be getting down to some serious sightseeing business.