Flight Log 7: US1953
Boston (BOS) - Charlotte (CLT)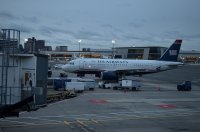 ABOVE:
US Airways Airbus A319 at Boston
My first thought after settling down on this flight was that cabin presentation was not very good, with lots of dirty marks visible on the plastic fittings between the seats. (And this was First Class!) When compared to our New York - Boston flight the previous weekend, the clientele on this flight seemed different as well, suggesting that American Airlines and US Airways had quite an integration challenge on their hands, in terms of both culture and practices. I was offered a pre-departure drink and decided to have a diet coke.
We left the gate a little behind schedule and had a significant wait for access to runway 33L, as multiple landings took place on a runway that intersected with ours. We finally took off just before 1730, towards downtown Boston.
When cabin service got underway, I restricted myself to some Kettle Chips and a small beer, as I knew that I would be driving later in the evening, following completion of a second flight sector. The flight progressed uneventfully, touching down in Charlotte at 1917 and arriving at the gate ahead of schedule.

Date: Fri 07 Nov 2014
Aircraft: Airbus A319
Scheduled dep: 1700
Actual departure: 1707
Scheduled arrival: 1925
Actual arrival:
1920
Cabin:
First Class
Seat: 3
A