Flight Log 6: AA1096
New York Kennedy (JFK) - Boston (BOS)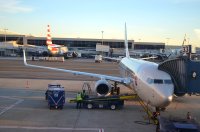 ABOVE:
American Airlines Boeing 737-800 awaiting departure for Boston at JFK
Having been delayed due to weather conditions in Boston, our flight began boarding at 1735. It was operated by a brand new Boeing 737-800 with Dreamliner-style overhead fittings and a new style of Domestic First seat. The new seat was of a slimmer design, but appeared to be fitted at the same pitch as its predecessor, thereby giving excellent legroom. Furthermore, the conventional method of recline had been replaced by an innovative forward-sliding motion so that at no time did the seat intrude into anyone else's space - why hadn't anyone thought of this before?! In an announcement at the gate, the captain gave the expected 'wheels up' time as 1830 and also informed us that he had instructed the flight attendants to suspend the beverage service and keep their seats throughout the 40-minute flight. It seemed that conditions were less than ideal up there!
We pushed back from stand at 1806. It was set to be a long taxi, but at least we seemed to be moving quickly along. This all changed, however, when the captain came back on to let us know that Air Traffic Control had changed our take-off time to 1913. He was about to shut down the engines on the taxiway for an expected restart in 35 minutes, the reason for the further delay being that Boston's Logan Airport was down to a single runway because of the adverse weather. It seemed strange that our marathon four-continent journey was starting to go wrong on the final, 40-minute domestic hop!
Engines were restarted at the appointed time and we finally left JFK behind at 1915. It was a bumpy ride from outset, which seemed at odds with the crystal-clear conditions, with streetlights visible for miles. As the short flight progressed, Bruce pointed out another difference in how the flight was being conducted. It appeared that flight attendants were no longer required to make announcements; instead, the screens were lowered and a pre-recorded version was played.
The flight incurred no further delays following departure. We touched down in Boston at 1959 and arrived on stand following a six-minute taxi.

Date: Sun 02 Nov 2014
Aircraft: Boeing 737-800
Scheduled dep: 1700
Actual departure: 1806
Scheduled arrival: 1810
Actual arrival:
2005
Cabin:
First Class
Seat: 3F