| | |
| --- | --- |
| Road Trip 1: New England in the Fall | |
| | |
Boston to Providence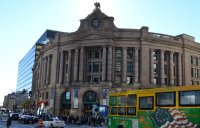 ABOVE:
Boston's South Station
After a much-needed good night's sleep, we got up in plenty of time to allow Bruce to get off to work. We walked the short distance to South Station in cold and bracing conditions, where we each had a Starbucks coffee paired with a breakfast sandwich from McDonalds. It was interesting to watch the commuter trains arriving every few minutes to disgorge huge passenger loads, even at the relatively early hour of 8am. I have always found it curiously engaging to watch a big city come to life on a weekday morning such as this.
All too soon, it was time for Bruce to head off, while I got ready for the next part of my own adventure. (We were due to meet up again at the end of the week.) Before beginning the first of two back-to-back road trips, I set off for a planned 2-mile walk in Boston city centre. It was still cold, but I was comfortable enough so long as I kept moving. My route took me up Summer Street to Boston Common, across to the Massachusetts State House and down to King's Chapel and the Old State House. I passed Faneuil Hall at 0955 and the cortege for the much publicised funeral of former mayor Tom Menino was almost ready to set off, amidst tight security and great media attention. I briefly wandered through the adjacent marketplace before returning to the InterContinental by the most direct route.
TOP ROW: 1. Boston Tea Party attraction 2. InterContinental hotel 3. Boston Common 4 and 5. Massachusetts State House 6. King's Chapel
MIDDLE ROW: 1. Old State House 2. Faneuil Hall 3. Cortege for the funeral of Mayor Tom Menino 4, 5 and 6. Faneuil Hall Marketplace
BOTTOM ROW: 1. Summer Street 2. Park Street Church 3 and 4. Boston cityscapes 5. Old State House 6. Mayor Kevin White statue
Checking out around 1045, I picked my rental car up from the valet parking people and headed off towards Providence in bright sunshine. The 50-mile drive took less than an hour and, in contrast to the much shorter car journey the previous evening, I completed this one door-to-door without a single hitch. On the way, I had managed to see some of the wonderful autumn colours for which this region is famous. In truth, I had been incredibly lucky in this respect: in most other years, the peak season for leaf colours would have been over by November.
Close to my destination, I had crossed the Rhode Island state line, meaning that I had now chalked up another of the 50 US states. Well known as the smallest state by area, Rhode Island ranks second-highest in terms of population density. The state, last of the original thirteen to be admitted to the union, is not an island; its common name is a contraction of The State of Rhode Island and Providence Plantations.
After parking the car, I checked into the Hilton and was given immediate access to my room on the fourth floor. Once I had got myself organised for the afternoon, I set out and had a quick look around the downtown area. I found a branch of the Panera Bread chain not far from the Rhode Island State House and had a light soup-and-sandwich lunch to set me up for another bout of sightseeing.
RIGHT:

Some initial views of downtown Providence, Rhode Island in beautiful clear-sky conditions
After lunch, I walked across to the State Capitol, which overlooks downtown Providence from Smith Hill. Constructed of white Georgia marble between 1895 and 1904, the building's facade is dominated by the fourth-largest self-supporting marble-covered dome in the world, after St Peter's Basilica in Rome, the Minnesota State Capitol and the Taj Mahal. The State House is considered to be an outstanding example of American Renaissance architecture, and I thoroughly enjoyed taking a self-guided tour.
ABOVE:

Rhode Island State House visit
I then crossed the canal to the city's attractive East Side, where initial explorations centred on a beautiful square featuring the first Baptist church in America.
ABOVE and RIGHT:

Some initial impressions of the attractive East Side of Providence, featuring the diminutive St John's Cathedral, the first Baptist church in America, and to my eyes at least, some typical New England architecture
In due course, I made my way to Prospect Street and the Main Green and wider campus of Brown University, the city's prestigious 'Ivy League' centre of learning. I must confess to being swept off my feet by this location, which in the gorgeous autumn sunshine seemed to me an inspirational setting for young people's efforts to further their education.
RIGHT and BELOW:

The beautiful campus of Brown University
As I then headed back westwards towards the Providence River, I was presented with an opportunity to do my good deed for the day, and found myself ringing a complete stranger's doorbell to point out to her that she had left her house keys dangling from the external lock!
RIGHT:

Some final East Side impressions
With daylight rapidly fading, I made a brief stop at a Starbucks branch in the Financial District on my way back to the Hilton. Later, I had a room-service dinner while I watched a movie on TV. What a packed and varied day!