Onwards to Los Angeles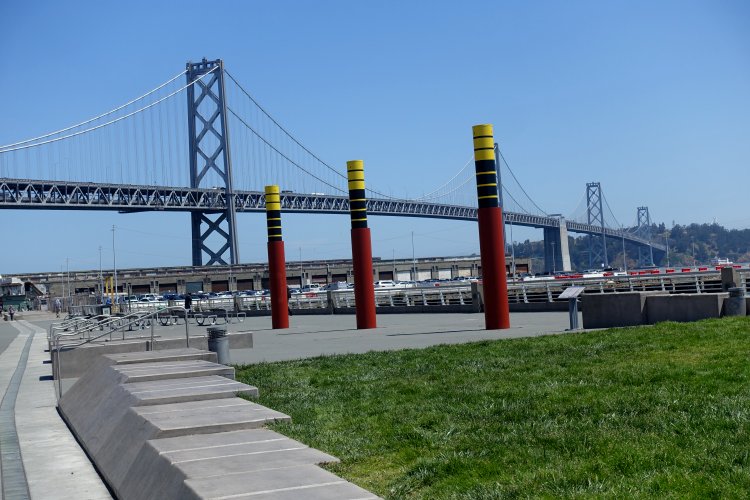 Certainly not for the first time on this trip, it was our final morning in a destination and the weather had mysteriously turned from mixed to gorgeous. There wasn't a cloud in the sky. Having messed up slightly with my South-of-Market venture on Thursday morning, I thought I'd take the opportunity to put matters right by visiting the part of the area north of Oracle Park, which I had seen briefly while making my 'escape' courtesy of Muni. Having travelled on it three times the previous day, I had my N-line swan song this morning by travelling to 2nd & King. I then walked back to base via the Ferry Building, all in brilliant sunshine - what a difference a day makes!
When Bruce finished work, we finished packing and returned to Powell St Station, this time to take a BART train to SFO. We went airside in the International Terminal and walked through to Terminal 3, where the first priority was to find some simple food for lunch. An exhibition on 'mid-century design' (translation: assorted stuff from the 1950s) provided a reasonably interesting diversion to help pass the time. Our United flight to LAX passed unevenfully.
On arrival, we took a Lyft from the airport to the Courtyard LA Live in DTLA, which apparently is now the fashionable way to refer to Downtown Los Angeles. It was the first time that I had been back to this area since our highly successful short visit on the last day of 2011. Our final jointly-booked hotel of the current trip was unlike any Courtyard that either of us had previously seen. For one thing, it shared a building with the Residence Inn, another Marriott brand.
After settling in, we walked around DTLA for nearly an hour trying to find a suitable venue for cocktails, only to end up steps from our new base at the neighbouring Hotel Figueroa, where Rick's bar proved to be an excellent choice. (At least we got some exercise in first!) Considerably later, we ended the day by visiting the local branch of Smashburger.
31 May 2019: Onwards to Los Angeles
×