Hot Springs failure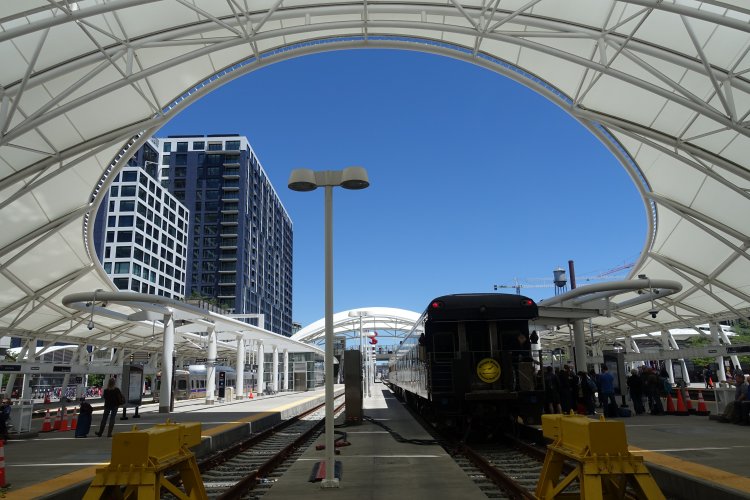 As our train (scheduled to depart at 0805) was going to be severely delayed, there was no need to get up early. When we did surface, it was to find that for the third time in a week, poor weather had turned into pleasant sunshine on the morning of leaving a destination. Today would also be memorable for the resignation (effective 7 June) of UK Prime Minister Theresa May. We had breakfast in a branch of Caribou Coffee, just a five-minute walk away on 16th Street Mall.
There was then no real option but to return to the hotel and wait for the constantly revised departure time to settle down. We walked the short distance to Union Station at the hotel's check-out time and waited in the pleasant sunshine, buying some takeaway lunch when it seemed that boarding was fairly imminent. We had taken the decision to go for a Family Bedroom, something that we had sampled previously on another trip. These are situated on the lower deck - one per sleeper car - and bring the considerable benefit of providing uninterrupted views on either side of the compartment. (For more details of the journey, click on Trains above and look at Train 3.)
We arrived in Glenwood Springs approximately 6.5hrs late (allowing for the change to Mountain Time) and took a taxi to the Courtyard by Marriott on the edge of town. The original plan for today, assuming an on-time arrival at 1355, was to have spent the remainder of the afternoon 'taking the waters' at this well known spa resort. In the event - and cheers, Amtrak

- our activities were restricted to catching up on some laundry and having drinks with some light food.
24 May 2019: Denver to Glenwood Springs
×