Things can only get better ... and do!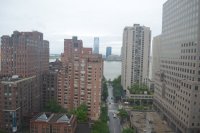 ABOVE:
Not the most promising start, yet so much better than the previous day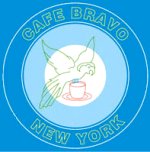 I still felt a little bit jaded from the previous day's attack of the blues when I woke up. The weather, while undoubtedly an improvement, also remained miserable, but what can you do? Sometimes you just have to snap out of it and carry on; after all, the team had been reunited and we were exactly where we were meant to be - and what a destination!
First order of business was to grab some breakfast, so I steered us in the direction of a little place that I had managed to spot in the midst of the previous day's deluge: an attractive, independent, typical-looking New York coffee shop and deli. At this time on a Saturday morning in the heart of the Financial District, the place was very quiet. It was good to start the day with proper Italian-style coffee and an English muffin with a still-sizzling sausage patty and freshly-made scrambled egg. I also got a helping of breakfast potatoes that I neither needed nor wanted, but who's complaining? It was a good start to the day and I was feeling better already.
ABOVE:

Arrival in Chinatown

We were booked on a three-hour Explore Chinatown Food & Culture Walking Tour run by Foods of New York Tours. We decided to take a cab to our meeting point in Chatham Square, so as not to risk tiring ourselves out before we even got properly started. We arrived in good time for the 10:30 start and it was fun watching our mainly young, mainly American group assemble.
Culinary highlights included Hong Kong-style dumplings and steamed pork buns at Dim Sum Go Go in Chatham Square, traditional Peking Duck at the Peking Duck House Restaurant in Mott Street and Golden Seafood Fried Rice with Cantonese-style roasted eggplant at ABC Chinese Restaurant, Pell Street. Along the way, we visited Chatham Square, Columbus Park and a traditional Chinatown shop, and we finished up with al fresco custard tarts purchased from the Golden Manna Bakery. Apart from the excellent food and the knowledgeable guide, what made the tour really enjoyable was the group of young, friendly and intelligent people whose company we had the pleasure of sharing.

LEFT and BELOW:

Some impressions of our Explore Chinatown Food & Culture Walking Tour. The weather wasn't exactly ideal, but the combination of a good group, tasty food and an excellent guide made for a highly enjoyable Saturday morning.
ABOVE:

Grand Central Station at the grand old age of 100
What an enjoyable morning - needless to say, the blues had now been well and truly banished. Having absolutely no inclination for lunch after spending the entire morning eating, we decided to head straight to our next objective in Midtown. Riding the subway to Grand Central Station turned out to be a particularly good idea, as the station was looking better than I had ever seen it in the past and was enjoying what is probably best described as an extended birthday party, having attained the the very respectable age of 100 on 1 February 2013.

We then walked the relatively short distance to the International Center of Photography at 6th & W 43rd to take in the current exhibit, which proved to be both popular and interesting. Every three years, ICP's curators round up some of the most interesting contemporary photography and video works from around the world. The 2013 Triennial, A Different Kind of Order, focused on artworks created against a backdrop of economic, social, and political instability. The exhibition featured 28 international artists who had made use of photography, film, video, and interactive media in their work.
ABOVE:

What's that I see? Can it be blue sky?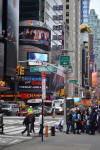 ABOVE:
Times Square
On leaving the exhibition, it was an unexpected pleasure to see some patches of blue sky above the Midtown skyscrapers. We strolled down to Times Square, which appeared to have been given a new traffic system since I was last there but was otherwise as crazy as ever. From there, we continued to the nearby branch of Dean & DeLuca to buy some of their attractive gourmet sandwiches as a pre-theatre meal. There would be no time for anything more substantial and, in any case, we had done more than our fair share of eating today already! With a heavy shower in progress as we left the store, a cab seemed in order for the journey back to base.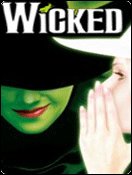 After relaxing for a short while and eating our D&D food, it was soon time to set out once again for one of the great highlights of this visit to the Big Apple: unbelievably, given how many previous visits I'd made to New York and how regularly I go to the theatre at home, tonight I was going to see my first-ever Broadway musical. The chosen show was Wicked at the Gershwin Theatre - a parallel story to the much-loved classic movie The Wizard of Oz that aims to give background and context to the characters Elphaba (the Wicked Witch of the West) and Glinda (the Good Witch of the North).
Although I found the music fairly unremarkable, it was nevertheless a hugely enjoyable evening - very much the full-on Broadway experience, with a large cast, big sound and some stunning sets and stage effects. It was also great fun spotting the many references to the movie.
Having already paid Broadway prices for our tickets that made London's West End look like a bargain basement, and having experienced the eye-watering bar prices in the theatre, we decided that we may as well throw caution to the wind, go the whole hog and once again cab it back to our Downtown hotel.