Flight Log 10: BA1448
London Heathrow (LHR) - Edinburgh (EDI)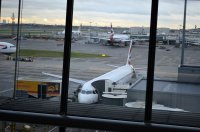 ABOVE:
British Airways Airbus A321 at the Heathrow T5 domestic gates
Nearly three weeks had passed since the first flight of this trip and it turned out that this was to be my first experience of the new short-haul cabin and the Pinnacle seats on board an Airbus A321. The installation programme really was proceeding apace! As boarding progressed, the captain announced that the expected flight time today was 55mins and that we would be cruising at 36,000ft. He also said that there was a bag belonging to a no-show passenger that would need to be off-loaded, and that this would probably mean that we were going to be a little bit late. In the event, we pushed back just two minutes adrift from the schedule, not even enough to cause a blip in the punctuality statistics.
Take-off from runway 09R less than 15mins later gave some good views during the left turn over West London. When cabin service got underway, I had my usual combination of a tomato juice, a coffee and on this occasion, some cheese and onion-flavoured crisps.
The flight proceeded on a routine basis and we descended through thick cloud to land at 1514 on Edinburgh's soaking-wet north-easterly runway, in very poor daylight. The November look was back with a vengeance!

Date: Mon 17 Nov 2014
Aircraft: Airbus A321
Scheduled dep: 1405
Actual departure: 1407
Scheduled arrival: 1525
Actual arrival:
1517
Cabin: Economy (Domestic Shuttle)
Seat: 1A