On the Music Highway
Thankfully there were no nocturnal disturbances during our final night at the Westin. One way or another, the room next door appeared to have been vacated and had probably now been blocked in the hotel computer, the electronic equivalent of being boarded up to await repairs.

Following our final breakfast at the next-door branch of Starbucks, we made an early (9am) start for the next task in hand: driving the 200-mile stretch of Interstate 40 between Memphis and Nashville. Following an act of the Tennessee legislature in 1997, this stretch of road has been officially designated 'Music Highway', celebrating the fact that it links the home of the blues / birthplace of rock and roll with 'Music City USA', which was our next destination.
There aren't too many things to keep one amused during a long stretch of freeway driving, but I did manage a smile at one entertaining example of cultural difference. So-called variable message signs have been commonplace in the UK for a number of years and they are now starting to appear in the USA as well. When there are no specific hazards or incidents to report, UK police tend to use these signs to impart random instructions of a general nature, as well as some rather po-faced nuggets of official wisdom. Examples include KEEP YOUR DISTANCE, SOFT TYRES INCREASE FUEL CONSUMPTION and the more mysterious COMPLY WITH RED X (which actually means: Don't drive in a closed lane, Stupid!) It all tends to come over as being somewhat Orwellian, and as such I have long since developed a habit of referring to these ubiquitous dot-matrix displays as 'Big Brother signs'.
In Tennessee, evidence suggested that while the broad intention was similar, the adopted style was just a little bit more laid back:
| | |
| --- | --- |
| | Y'ALL GET YOUR EYES ON THE ROAD |
| | AND YOUR HEAD OUT OF YOUR APPS |
God Bless America, I say!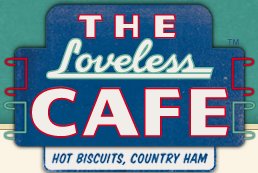 As planned, we eventually found our way to the Loveless Cafe on the outskirts of Nashville, an old-fashioned diner famous for its savoury, Southern-style biscuits. Bruce had warned me in advance that portions and patrons alike would probably be huge. What we hadn't anticipated was that the waiting time for a table on this weekday lunchtime would be a crazy 1hr 15mins. Flexible as ever, we devised and adopted an on-the-spot Plan B, opting instead for an in-car picnic. We ended up with an overwhelming amount of food (see photo) and the warm sunshine soon dictated that it should in fact be an out-of-car feast!
I couldn't help noticing while we ate that it wasn't just New England that was capable of turning out some stunning autumn foliage; this part of the USA was doing a pretty good job too. It seemed like a good spot to get the car to do a bit of posing for the camera.
LEFT:

Huge picnic lunch at the Loveless Cafe

RIGHT:

Nice car, nice autumn colours!
ABOVE:

Belmont Mansion
ABOVE:

Stock images of Belmont Mansion interior
1. Portrait of Adelicia Acklen
2. Adelicia's bedroom
After lunch we drove on into Nashville proper and located our initial objective of Belmont Mansion, situated right in the middle of Belmont University's attractive campus, at 1700 Acklen Avenue. We took a tour lasting about an hour, which explained the history of the mid-19th century property, one of the most elaborate antebellum houses in the entire South. The tour also covered the remarkable life and legacy of the mansion's owner, Adelicia Acklen, a Nashville businesswoman and socialite.
ABOVE:

More views of Belmont University campus
Following the tour, we had time to take a stroll around the historic part of Belmont University campus - a very pleasant way to spend time on a gloriously warm and sunny November afternoon. Finally, we drove to our base for the next three nights, the remarkable Gaylord Opryland Resort, run by Marriott.
ABOVE:

Gaylord Opryland Resort
Situated northeast of downtown Nashville on a bend of the Cumberland River, and adjacent to the iconic Grand Ole Opry country music venue, this vast complex seemed to be a fusion of three different concepts: hotel, conference centre and theme park! There were a total of 17 bars and restaurants, together with gardens, swimming pools and a spa, and most of these facilities were located under cover in huge, atrium-style spaces. The midweek clientele were rather more upmarket than I had feared might be the case, the vast majority being business people attending conventions.
With all these facilities at our disposal, it wasn't too difficult to find a suitable evening venue for a couple of adult beverages, followed by a nice dinner of crab bisque and beef brochettes. The bill came to a fairly shocking (by American standards) USD111 for two, proving the old principle that captive audience = complete rip-off.