Cross-state River Runner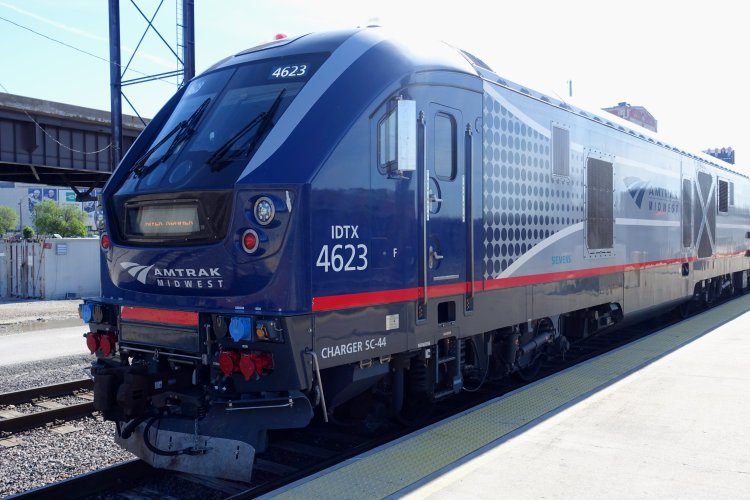 We were up at 0630 to prepare for our next train ride. Following another breakfast at Park Avenue Coffee, we took a MetroLink tram to St Louis's unattractive Gateway Station, boarded the Missouri River Runner and achieved an on-time departure! (Select Trains from the black menu and look at Train 2 for further details.)
We arrived into Union Station, Kansas City, MO a little late and in dreadful weather. The station itself was hugely impressive, and we knew that it would demand a closer look at a more favourable time. Our hotel was situated diagonally opposite on a major intersection, and we felt fortunate indeed to be able to use covered walkways to get to the Westin without getting completely soaked. It was clear from the moment that we walked through the front door that the hotel was full of convention attendees. Fairly quickly after settling into our room, we decided to have a cocktail in the lobby bar, to celebrate our somewhat soggy arrival at a new destination.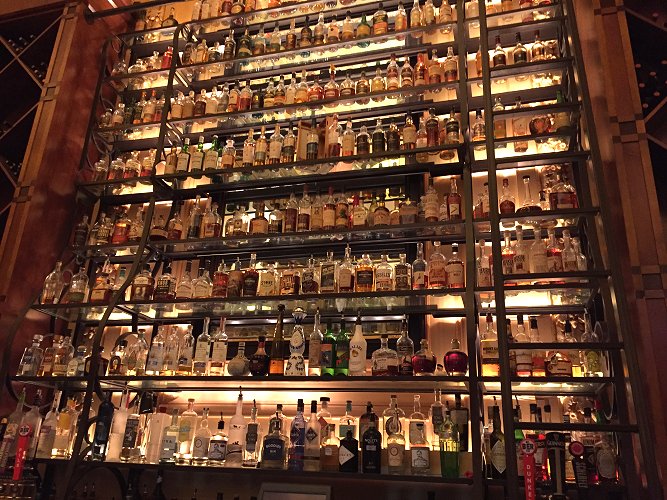 Roughly a couple of hours later, we decided to return to the station and quickly found Pierpont's, a high-end restaurant. It had an equally impressive bar, and it didn't take much persuasion to have us settling in on a pair of bar stools. The bar shelves were spectacular, with the attendant needing to use a ladder to get to some of the bottles. I could visualise a job advert: candidates who suffer from vertigo need not apply. We really enjoyed a variation on the classic Manhattan: the Manhattan Kansas was based on locally distilled Rye, and served with a fig (instead of the usual cherry) and improbable-sounding balsamic fig reduction. Amazingly, it worked - and worked well. Bruce was getting lots of chatter from a rather lonely-looking woman sitting at the bar. I smiled a few times to be polite, but couldn't get interested in what she was going on about.
Finally, we had a pizza in a place called SPIN! in the Crown Center, the worldwide headquarters of Hallmark Cards. With the weather outside still vile, it had the advantage of a direct connection to the Westin. It was a good pizza, even if they did make it very clear indeed when they considered that it was closing time. Back in the room, Bruce discovered that he had received his first ever 'reverse-911' voice mail advising him to seek immediate shelter due to tornado activity in the area!

20 May 2019: St Louis to Kansas City
×